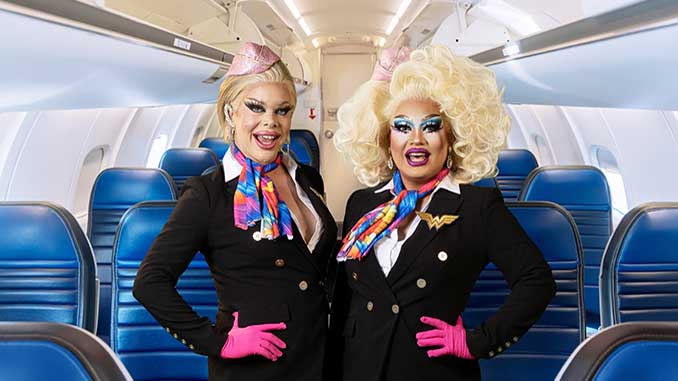 Territorians are being invited to celebrate the strength and diversity of the close-knit community in Alice Springs by supporting one of Australia's quirkiest festivals, FabALICE Festival held from 9 – 12 March 2023.
50 lucky people can book our first ever FabALICE QUEENS OF THE SKY packages with Drag Territory departing Darwin on Friday 1o and returning Sunday 12 March 2023. Bookings by Friday 10 February (unless sold out prior) contact: rachel.darwin@helloworld.com.au
For $1399 – the package includes return economy airfares, accommodation, a VIP Darwin Airport Lounge function prior to departure including food and beverages, prizes for the best dressed and bus transfers to and from Alice Springs airport. Upgrade to Business Class seats on application.
"Now more than ever Territorians need to stand together and support festivals such as this," said Thomas Coelli Secretary fabALICE Committee. "We invite you to join us in Alice Springs to celebrate what is great about our community. What better way than with this first Central Australia festival of 2023."
"This Festival is one activity where the community can actively participate in an event which is quintessential Northern Territory. Our event venues and accommodation providers take security measures seriously and the voluntary organising team is working tirelessly in response to recent township issues. We encourage you to join us."
"Now is a time to start healing – we need to activate the town through positive initiatives. The Territory is a resilient place and Alice has proven that the spirit of people is bigger than anything that gets thrown at them," said Mr Coelli.
Mr Coelli stated that restaurants, hotels, shops and other businesses and service providers need the support fostered by FabAlice.
FabAlice is made up of 12 events held at 11 secure locations and includes cabaret shows, Drag Queen Bingo, Lip Sync battles and the famous Under the Stars Gala night – the headline event at the Old Quarry followed by more performances at the after party at Lasseters.
"Nearly all the venues across the four days are ticketed and include security to ensure safety," says Mr. Coelli.
---
Running 9 – 12 March 2023, FabALICE in Central Australia is the perfect event to unite and be fabulously different. For more information and view full program, visit: www.fabAlice.com for details.
Image: Queens of the Sky – courtesy of FabAlice