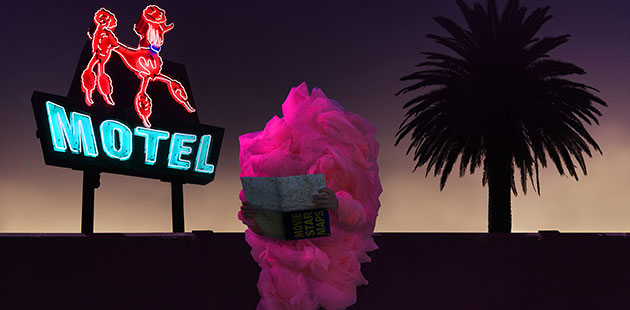 Transforming Brisbane's laneways and city streets into imaginative, curious, and engaging spaces, Razzle Dazzle is a vibrant and provocative free public art project taking over CBD streets and spaces from August to November 2020.
An initiative of Brisbane City Council's Outdoor Gallery, the exhibition of 11 contemporary artists with connections to Brisbane will transform 9 sites across the city into spaces to spark imagination and engagement.
Razzle Dazzle looks at the relationship between humans and their environment and how we stand out or disappear within public space. Artworks with patterns, textures and colour influenced by natural and unnatural worlds hiding in plain sight or adorned for attention will be showcased in lightboxes, banners, vitrines and evening projections.
Designed to create connections between artists and audiences, the free all-ages exhibition brings creative works from gallery walls to public spaces, using the streets of Brisbane as a backdrop. With alfresco sites in streets and laneways, the Outdoor Gallery provides plenty of open space for viewers to consume and connect with the artworks in a safe and socially distant environment.
Razzle Dazzle is curated by McCarthy-Swann Projects, headed by Amy-Clare McCarthy and Kieran Swann, which previously staged Brisbane City Council's 2017 Temporary Art Program with The Weight of Light & The Size of Air exhibitions. The duo's latest exhibition curates a striking visual palette inspired by spectacle and camouflage to catch the eye of local audiences in unexpected urban spaces.
"The Razzle Dazzle artworks invite all to experience a new reflection on the Brisbane cityscape through bright and captivating visuals that draw attention to the Outdoor Gallery spaces," said McCarthy. "Razzle Dazzle refers to both the colloquial meaning of razzle dazzle as showiness, and also a design of camouflage patterning."
Swann added "We're incredibly proud to present these immersive works by contemporary artists with a connection to Brisbane. It's an opportunity to connect with art in our city in a different way."
Brisbane-based multimedia artist Chantal Fraser, whose textural patterned pieces explore cultural adornment, is featured in the Razzle Dazzle exhibition and will take part in walking tours to provide insights into her work as part of the public programs. "The spaces my work inhabits in this project provide an ideal context to explore the paradox between invisibility and hypervisibilty," said Fraser.
As well as curator – and artist-led walking tours, the Razzle Dazzle public program will also include thematic tours led by experts to highlight selected works. Brisbane Lord Mayor Adrian Schrinner looks forward to welcoming locals back to the City to enjoy this latest public art exhibition.
"Brisbane is home to wonderful artists and our wonderful Outdoor Gallery program reflects this talent," he said. "I know this exhibition will encourage more residents to explore the inner-city, support our local artists and inject some much needed income into our retail and dining scene, "said Cr Schrinner.
---
Razzle Dazzle will be on display in Brisbane City Council's Outdoor Gallery until 22 November 2020. For more information, visit: www.brisbane.qld.gov.au for details.
Image: Gerwyn Davies, Poodle, 2016 (detail) – courtesy the Artist and Outdoor Gallery