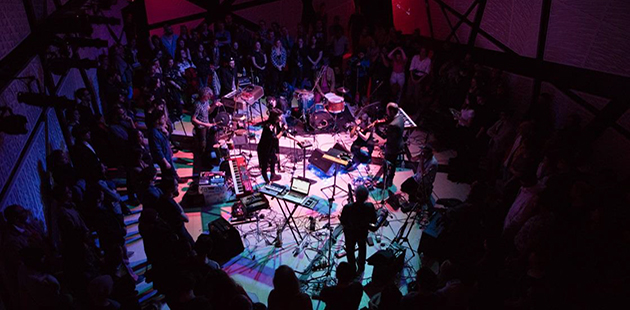 Presented as part of MEL&NYC – a new program of multi-disciplinary events celebrating all things New York and Melbourne, Arts Centre Melbourne presents New York large ensemble collective, EXO-TECH for one night only on Wednesday 18 July 2018.
An evening of cutting-edge contemporary music making waves through the New York scene, EXO-TECH is led by pop sensation Kimbra and musician Sophia Brous, alongside New York artists Yuka Honda with EUCADEMIX, the Dave Harrington Trio and more.
EXO-TECH is a New York large ensemble collective formed in 2016 by Australian musician Sophia Brous with NZ/New York-based pop innovator Kimbra. A collective of musicians from across New York and Brooklyn's thriving creative music scene, the group explore the intersections of collective improvisation and pop song composition, traversing fields of modern pop and rnb alongside free jazz, no-wave, disco and film music.
The collective has featured some of the most respected music luminaries from New York and beyond, with collaborators that have included David Byrne, Questlove, Moses Sumney, Colin Stetson, Sean Lennon, Bilal and Caroline Polachek.
Formed by Brous and Kimbra so that a group of musician friends could experiment in improvised song forms in hypnotic concerts-in-the-round, the group made waves in New York with a series of shows featuring extraordinary line-ups of collaborating musicians across New York's music scene.
In a world premiere, the Melbourne performance will see Brous and Kimbra reunite with a group of New York's most exceptional musicians to create a never-to-repeated performance on the stage of Arts Centre Melbourne's State Theatre.
Extending across the city from June to August 2018, leading Melbourne cultural venues and communities will come together to present MEL&NYC – an unprecedented program of events that explore culture, politics, business and everyday experience seen through the eyes of leading New Yorkers and Australians.
EXO-TECH
State Theatre – Arts Centre Melbourne, 100 St. Kilda Road, Melbourne
Performance: Wednesday 18 July 2018 – 8.00pm
Information and Bookings: www.artscentremelbourne.com.au
Image: EXO-TECH (supplied)