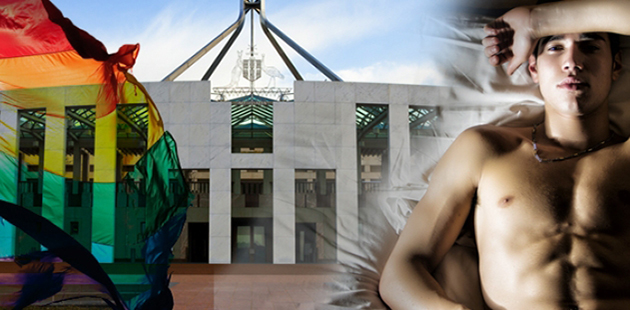 From the award-winning creator of Scandalous Boy comes Exclusion – an explosive new play written and directed by David Atfield that looks at the post marriage equality political world and questions just how welcome LGBTIQ people really are in the corridors of power at The Street Theatre in a world premiere season from 10 November 2018.
Canberra 2018. As a debate rages over a proposed education program to teach children about sexuality, two male federal ministers are contending to become Prime Minister. But they both have secret lives that threaten to destroy their careers.
When a handsome young staffer enters the scene their worlds descend into a whirlpool of hypocrisy, blackmail, deception and sexual intrigue. "Do you think Australia is ready for an out gay Prime Minister?"
Exclusion is a sexy, funny, moving and wildly sensual play combining the complexities of human sexuality with ambitions for power. Politicians are stripped naked, literally and spiritually, as the characters betray, expose and manipulate each other; identities tumble, marriages fall and alliances break.
"The play explores the complex intersection of the personal and the political, woven into a universal story about the personal compromises we all make in the pursuit of our careers," says director and playwright, David Atfield.
David Atfield (Scandalous Boy, Chiaroscuro) is one of Canberra's most respected directors and playwrights and winner of two Canberra Critics' Circle Awards. This year marks his 26th year of creating innovative theatre including contributions to a body of work connected to the ACT's LGBTIQ community.
Atfield leads a stellar cast of Canberra's finest actors including Craig Alexander (Venus in Fur), Ethan Gibson (Scandalous Boy), Tracy Bourne (Blue, Sherpas), Fiona Victoria Hopkins (Landscape of Lies, Doghouse) and Michael Sparks (Happy Birthday Wanda June).
The Creative Team includes celebrated set and costume designer Imogen Keen, world-renowned lighting designer Hartley T A Kemp and accomplished sound designer James Tighe.
---
Exclusion
The Street Theatre, Childers Street, Canberra City West
Season: 10 – 17 November 2018 (preview: 9 November)
Information and Bookings: www.thestreet.org.au
Image: Exclusion (supplied)
Warning: Contains nudity, sexual and adult themes, coarse language and drug use. Recommended for ages 18+