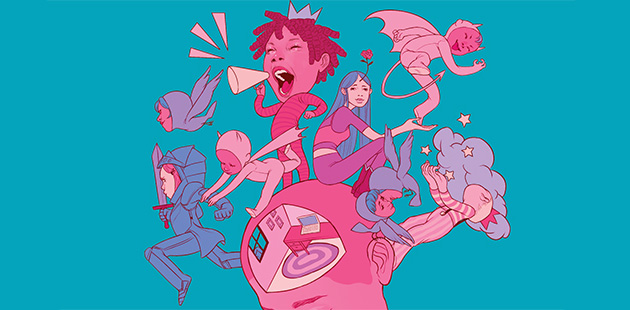 Bringing together storytellers of all kinds in an inspiring eight-day program of performances, professional development and innovative digital programming in a completely online festival from 16 June, the Emerging Writers' Festival (EWF) has revealed its 2020 program.
"This year we felt it more important than ever to give space to art and artists to hone their craft, connect with communities and present their work to audiences," said EWF Artistic Director Ruby-Rose Pivet-Marsh. "We cannot wait for you to see what we have in store."
Festival highlights include The Bogong: Blak Futures, which celebrates blak visions of solidarity and sovereignty for this year's opening night, and Amazing Babes, an intimate storytelling night that honours the babes who inspire us.
Festival Ambassadors Amy McQuire, JP Pomare, Carrie Tiffany and Omar Sakr will headline the National Writers' Conference (20 June). This one-day online writers' conference will cover the craft, ethics and business of writing.
EWF will provide accessible professional development for emerging creatives with a free online workshop series, led by inspiring industry leaders. Workshops include Podcasting 101, Writing Grief and Writing Your Own Story.
Innovative digital projects weave through the program, such as Playlist: Joy – a cheerful curated collection of music, Meme Girls – a collection of original work on internet culture and Space Mall – a choose-your-own Twitterature adventure.
Running from 16 – 23 June and in response to COVID-19, this year's EWF will happen entirely online. It will be accessible anywhere, anytime for anyone with an internet connection, and over half the program is free. For more information, visit: www.emergingwritersfestival.org.au for details.
Image: courtesy of Emerging Writers' Festival
---
Highlights of the 2020 Emerging Writers' Festival program include:
NATIONAL WRITERS' CONFERENCE:
This one-day online conference provides industry insight, inspiration and advice for writers of all genres and forms. Festival Ambassadors Amy McQuire, JP Pomare, Omar Sakr and Carrie Tiffany will headline this year's National Writers' Conference.
DATE: Saturday 20 June, 10.00am-5.00pm // VENUE: Live-streamed via Zoom & GoToWebinar // PRICE: $60 full/ $50 concession
SPECIAL EVENTS:
Opening Night: The Bogong: Blak Futures – EWF opens with a night of inimitable and inspiring creativity. Four First Nations artists lay down their speculative visions for the future, from warnings to blueprints of blak futurism. With Travis De Vries, Stone Motherless Cold, Emily Munro-Harrison and Amy Thunig. Presented in partnership with Blak & Bright Victorian Indigenous Literary Festival. DATE: Tuesday 16 June, 7.00pm // VENUE: Live-streamed via YouTube // PRICE: Free
Closing Night: Amazing Babes – A night of intimate storytelling and celebration honouring the babes who inspire and uplift us, followed by a live-streamed DJ set. With Veronica Gorrie, Maya Hodge, Raelee Lancaster, Tarneen Onus-Williams, Alice Skye and Peta Duncan (DJ Set). Includes the announcement of the Rachel Funari Prize for Fiction. Presented in partnership with the City of Yarra. DATE: Tuesday 23 June, 7.00pm // VENUE: Live-streamed via Zoom // PRICE: Pay What You Choose tickets ($5-$20)
PERFORMANCE EVENTS:
Kiss Me Thru The Phone – Join EWF for a digitally intimate evening as six brilliant artists touch and tickle us with their tales of love, loss, lust and longing. With Joshua Badge, Kat Capel, Shu-Ling Chua, Bella Green, Ana Maria Gomides, Gok-Lim, Thuy On and Tarneen Onus-Williams. DATE: Wednesday 17 June, 7.00pm // VENUE: Live-streamed via Zoom // PRICE: Pay What You Choose tickets ($5-$20)
Centre for Stories: Through the Looking Glass – Hear from five writers from Perth's Centre for Stories as they perform dramatic readings about the wonderfully complex and chaotic world we live in. With Adele Aria, Patrick Gunasekera, Kaya Lattimore, Emily Sun and Alexander Te Pohe. Presented in partnership with Centre for Stories. DATE: Wednesday 17 June, 7.00pm // VENUE: Live-streamed via Zoom // PRICE: Pay What You Choose tickets ($5-$20)
INDUSTRY DISCUSSIONS:
Lunchtime Lit – EWF's exciting lunchtime sessions are back, available to watch live or on-demand. Topics include Writing Through Crisis, Writing Close, Growing Up Disabled in Australia, and The Cost of Writing. DATE: 17, 18 19 & 22 June, 12.30pm // VENUE: Live-streamed via YouTube // PRICE: Free
Hachette Debut Authors – Three of Hachette's debut authors sit in discussion with their publisher to chat about being "discovered" through Hachette's Richell Prize and the publication process. With Robert Watkins (host), Sam Coley, Ruth McIver and Mandy Beaumont. Presented in Partnership with Hachette. DATE: Friday 19 June, 7:00pm // VENUE: Live-streamed via YouTube // PRICE: Free
PROFESSIONAL DEVELOPMENT:
Writing Your Own Story – Join software developer, award-winning personal essayist and author Rose Lu (All Who Live on Islands) as she leads you through the process of written exploration and experimentation in order to pen your personal story. Presented in partnership with the City of Port Phillip. DATE: Thursday 18 June, 2:30-4:30pm // VENUE: Zoom // PRICE: Free, bookings required
Podcasting 101 – Learn the ins and outs of starting your own podcast in this hands-on, two hour workshop led by experienced podcast producer, Lee Tran Lam (Unbearable Lightness of Being Hungry Podcast). Presented in partnership with the City of Dandenong. DATE: Thursday 18 June, 5:30-7:30pm // VENUE: Zoom // PRICE: Free, bookings required
INTERACTIVE DIGITAL PROJECTS:
Playlist: Joy – In moments of grief and fear, it can be difficult to find things that provoke happiness. Five writers have curated a collaborative playlist featuring the songs that bring them joy, and they share the stories behind their personal soundtracks to life. With Vanessa Giron, Freya Daly Sadgrove, Michael Sun, Thabani Tshuma and Panda Wong. DATE: Launching 16 June // VENUE: EWF Website // PRICE: Free
Space Mall: Choose Your Own Adventure – From the playful to the political, Space Mall explores themes of identity, oppression, isolation, and resistance, in this choose-your-own Twitterature adventure. With Travis De Vries, Holly Friedlander Liddicoat and Lujayn Hourani. DATE: Launching 16 June // VENUE: EWF Website // PRICE: Free