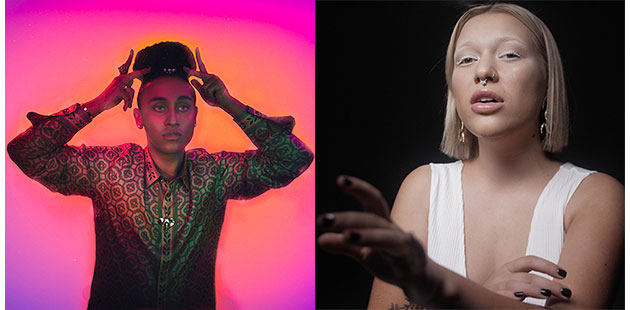 Sydney based rapper JamarzOnMarz and rising Canberran star Aya Yves are two emerging LGTBQI+ artists selected to join ARIA Award-winning Montaigne on stage for the very first Express Yourself – Queer Discovery showcase at The Beresford Upstairs on Saturday 28 November 2020.
A joint initiative between Mardi Gras and APRA AMCOS, Express Yourself – Queer Discovery is a series of three music showcases that will see emerging LGBTQI+ artists perform alongside an established headliner to a room of music industry heavyweights and the general public.
At the end of the series, a panel of judges will select two of the emerging artists to perform at a Mardi Gras event in 2021. Judges for the first showcase include legendary performer Marcia Hines, singer/songwriter Gordi, Producer Alex Hope, Mardi Gras CEO Albert Kruger and APRA AMCOS CEO Dean Ormston.
JamarzOnMarz is a 22-year-old out gay rapper and saxophonist of Kenyan and Sri Lankan-Tamil heritage. With storytelling at the creative helm, Jamarz delivers razor-sharp lyrics over an infusion of genres to share his lived experience and challenge the social constructs of sexuality, masculinity, and gender identity.
Jamarz latest track Don't Touch My Hair inspired him to campaign for independent schools to put an end to uniform policies that discriminate against students with Afro-textured hair. The petition quickly amassed over 24,000 names – including backing from music-industry peers Jen Boyce (of Ball Park Music), Tuka (of Thundamentals), Cry Club, Alphamama and Temgazi.
"It super important to amplify, support and uplift queer voices in music, so I'm really excited and thankful to be given this opportunity," said Jamarz. "Queer stories in music are important and they are not just for the queer community. Our stories can transcend and be appreciated by the masses and it's opportunities like this that are helping to make that happen."
With otherworldly vocals and an honest approach to songwriting, Aya Yves embraces the electronic sonic landscape, contrasting light airy vocals with dark, brooding and quirky production. The Canberra local has released three singles already this year, with the latest Dear E. following (in)Sanity and Smart Girls, both of which feature the work of talented producer Xavier Dunn (Jack River, CXLOE, Graace, Carmada, Peking Duk), and were added to rotation on triple j Unearthed.
"Honestly for me, this opportunity is a big thing. Having only come out recently, I was hesitant to apply but I'm so glad I did," said Aya Yves. "This solidifies my acceptance of myself, as well as an opportunity for me to show my pride in being a part of the LGBTQI community."
Express Yourself – Queer Discovery is taking place as a part of the Great Southern Nights initiative, and takes place at The Beresford Upstairs on Saturday 28 November 2020. Applications for January showcases are now open and close 2 December 2020 – click here to apply.
---
For more information, visit: www.mardigras.org.au for details. Stay tuned for details on how you can watch online.
Image: JamarzOnMarz and Aya Yves (supplied)