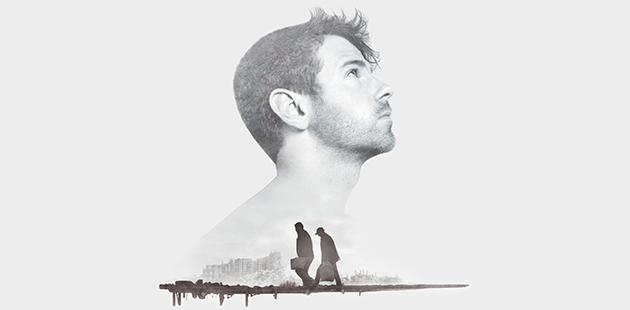 Following the critical success of its 2016 Australian premiere at Melbourne's Midsumma Festival, Lab Kelpie's urgent and arresting theatre piece Elegy by Douglas Rintoul will be performed at Monash University's newly developed Alexander Theatre for one performance only on Thursday 16 August 2018.
A young man pieces together a personal story of love and flight. Based on Rintoul's interviews with gay refugees and inspired by the work of award-winning photojournalist Bradley Secker, Elegy journeys through a no-man's land of empty train stations, treacherous border crossings and bomb-blasted towns.
The play is an exploration of the human loss linking us all, regardless of our religion or politics. Devised using real-life testimonies and created by Rintoul from Transport Theatre UK, Elegy immerses its audience in an empathic yet confusing romantic journey before falling into the play's political depths.
Featuring Gareth Reeves (Pete's Dragon, Underbelly) as the refugee, John Kachoyan (Bell Shakespeare, Red Stitch Actors' Theatre) returns to direct this absorbing drama and is thrilled at the opportunity to do so for a story that has resonated with him so deeply. "It's such a pleasure to be able to work on Elegy, to share it again and to know that a larger and more diverse audience will get to see it," he says.
"I was initially drawn to the sheer humanity of the haunting, lyrical script – it's a love story and a loss story. These are stories we simply weren't – and still aren't – hearing about both LGBTQI people persecuted in their homeland and about asylum seekers thrust into the chaos of a world increasingly hostile to them because of this persecution. The intersection of those two spurned groups really struck me."
The casting of a white Australian male to play a gay refugee is not lost on Kachoyan, and the team specifically chose to cast this way for a reason. "The Producers didn't want the piece to be able to sit at a safe distance as the story of the 'other' or for us to borrow a cultural or experiential heritage we didn't have ourselves," he says.
"It's definitely something we've grappled with and worked with different groups and communities on but this piece currently hits certain audiences (those perhaps less open or aware of these issues) harder because of this element but hopefully there will be other actors playing the part in future tours."
Almost three years after Elegy's Australian premiere, the violence against gay refugees in Iraq, Syria, and the wider Middle East has only deepened. As our own elected leaders continue to show resistance to equality, and maintain their commitment to 'turning back the boats', this timely work lays bare the human cost to such policy decisions. Despite the seemingly dark content, audiences will leave warmed, thrilled and moved, and more than likely ready for lively discussion.
"The play is an exploration of the human loss linking us all, regardless of our religion or politics." – Arts Review
Elegy
Alexander Theatre – Monash University, Clayton Campus
Performance: Thursday 16 August 2018 – 7.30pm
Information and Bookings: www.monash.edu
Image: courtesy of Lab Kelpie