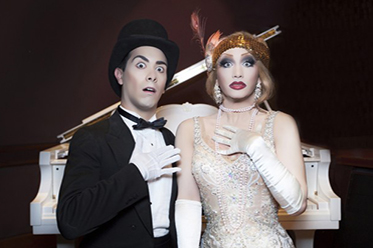 From the bright, sparkling and saturated to the mixed, blurred and occasionally understated – the 2014 Sydney Gay and Lesbian Mardi Gras festival is poised to deliver festivalgoers a kaleidoscope of colourful experiences.
From world-class cabaret, theatre and musical performances, premiere film screenings, and visual art exhibitions, the 36th annual festival features a jam-packed program of delights that continue through to Sunday 2 March. Arts Review takes a look at eight festival events you must see this year!
Bob, Sweat and Tears
Sydney Theatre: 26 & 27 February 2014
Cabaret fans will rejoice as beloved gay icon Bob Downe returns to the Sydney Theatre bringing audiences his new production Bob, Sweat and Tears. Australia's Prince of Polyester is finally manning up, performing a brand new bunch of classic hits and offering up a laugh-a-minute roller-coaster ride of shocks and frocks!
Company of Men
Oxford Street: 12 February – 2 March 2014
Company of Men is a multimedia experience featuring some of Sydney and Melbourne's most boundary pushing and sexy photographic, video, installation and performance artists – where men explore men. Exhibiting in three exciting spaces on Oxford Street – the heart of Mardi Gras: The Oxford Hotel, Platform 72 and the Oxford Art Factory.
Trevor Ashley is Liza (on an E)
Sydney Theatre: 28 February 2014
Direct from his sell-out West End run, and performances across Europe and the UK, cabaret star Trevor Ashley is bringing Liza home to Sydney in his internationally-acclaimed stage show Trevor Ashley is Liza (on an E). From her marriage to Australia's song-and-dance darling, Peter Allen, to her notorious pill-popping and ubiquitous showbiz family, Liza (on an E) will dish the dirt on Liza's extraordinary life like never before!
Mardi Gras Film Festival
Event Cinemas: 13 – 23 February 2014
Sure to be on the radars of all cinema-lovers will be the 21st edition of the Mardi Gras Film Festival, Australia's leading selection of LGBTQI films. Presented by Queer Screen, the 2014 Festival will once again celebrate the best in queer filmmaking, offering up a diverse selection of Australian premieres and top-notch flicks from across the globe.
Privates on Parade
New Theatre: 11 February – 8 march 2014
New Theatre's annual Mardi Gras production is always one of the highlights of the festival, and Privates on Parade will continue that tradition. Peter Nichols' outrageously funny play, part satirical revue, part coming-of-age drama, is underpinned by a darker and more poignant reality. With music by Denis King, Privates on Parade is a camp concoction of song, dance, blokes in frocks and very naughty laughs.
The Vaudevillians
The Vanguard: 18 February – 2 March 2014
The hottest act ever frozen alive has returned from the 1920′s to reclaim their original hits! RuPaul's Drag Race reigning queen – Jinkx Monsoon makes her Australian debut in The Vaudevillians as Kitty Witless with co-star Major Scales as Dr. Dan Von Dandy.
William Yang – Friends of Dorothy
Event Cinemas: 19 February 2014
William Yang has been a constant, smiling presence in Sydney's LGBT community for four decades, observing and capturing the swirling social whirl around him with the quiet skill of a wildlife photographer. Featuring more than 650 of his own photographs, and his trademark understated narration, Yang tells his personal tales, taking us through the history of Sydney's queer community – from the gay underground of the late 60s to the beginnings of the Gay and Lesbian Mardi Gras, the AIDS crisis of the 80s, the party scene of the 90s and beyond.
Women Say Something: Dancing on the Ceiling
Sydney Town Hall: 28 February 2014
Women Say Something celebrates the achievements of women from many diverse backgrounds in an evening of conversation, entertainment, film, fine food & wine and lavish spectacle. Expect to see and hear the unexpected. Expect to laugh, to cry, make new friends and hear inspirational stories from women who have achieved among great odds. Hosted by Kate Monroe, Women Say Something features Lt. Col. Cate McGregor, Clover Moore, Natalie Cook, Beccy Cole, Merryn Johns, Libby O'Donovan, Sexy Galexy, Tanya Hosch, Martine Locke, Lisa McGuigan, Sally Whitwell, Tracey Spicer and Naomi Steer.
You should also consider: Everything I know I learned from Madonna, a real and riotous comedic drama told through some of the material girl's most famous lyrics; Oprahfication, a side-splitting multi-award winning cabaret about the world's richest and most beloved talk-show queen; and Falsettos, a wickedly funny Tony Award-winning musical about the original modern family!
For more information and full festival programme, visit: www.mardigras.org.au for details. The Mardi Gras Film Festival programme can be viewed at: www.queerscreen.org.au/mgff
Image: The Vaudevillians
Eight 'must see' events at Mardi Gras was originally published on Australian Arts Review: www.artsreview.com.au