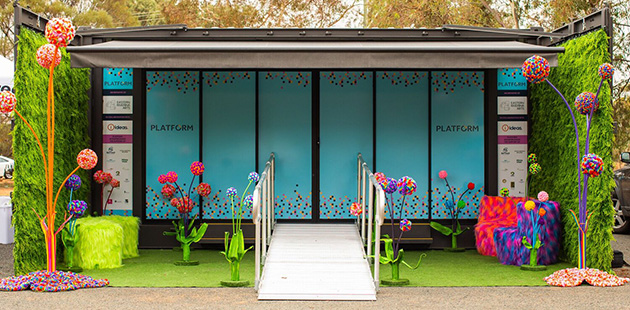 Eastern Riverina Arts presents PLATFORM – a multi-sensory mobile art installation space adapted from a 20-foot shipping container – now available for hire by festival and event organisers.
With one in five Australians identifying with disability, hiring PLATFORM means event organisers can integrate accessibility simply into their planning, and increase participation and visibility of both artists and people with disability at community events.
PLATFORM is purpose-built within a modified shipping container. Configurable as a sensory space, chill-out area, exhibition space or small stage, throughout the course of an event, festival-goers can visit the space to engage the senses or take some time out in a calming environment.
A complete sensory installation, the space features soft music, slow moving lights, interactive tactile objects and weighted blankets. A portable accessible deluxe bathroom is available to accompany PLATFORM, ensuring festivals and large events can be inclusive and accessible to people with disabilities.
With an interior designed by Bliss Cavanagh, a sensory artist and designer, PhD researcher and passionate advocate for mental health, PLATFORM is an accessible and enchanting experience for people of all ages and abilities who might otherwise find that attending a festival or event is beyond their reach.
"Participation in the arts is a foundational right. So much cultural activity in our region is led by community and volunteer groups," said Dr. Tim Kurylowicz, Executive Director of Eastern Riverina Arts. "PLATFORM enables us to meet them where they are at, to enhance the great events they are putting on and start them on a journey to thinking more about accessibility and inclusiveness."
"We have designed this project to have an ongoing legacy, to help festival organisers put accessibility at the forefront of their events," said Dr Kurylowicz.
PLATFORM is also being used as a vehicle to showcase the work of artists with disabilities to festival audiences. Artists can perform in or curate the space, giving festival-goers the opportunity to experience the work of artists with disability.
The PLATFORM team can work with festival organisers to increase accessibility event-wide, such as disability awareness training or checklists, to help build the capacity of communities to better deliver inclusive and accessible events that anyone can attend.
In June 2020, Eastern Riverina Arts will host PLATFORM Live – an online one-day event in featuring performance, video, art and discussions by artists with disabilities.
PLATFORM is an initiative of Eastern Riverina Arts in collaboration with IDEAS (Information on Disability Education and Awareness Services). The project has been funded by the National Disability Insurance Agency's Information, Linkages and Capacity Building program. For more information, visit: www.platformriverina.com for details.
Image: PLATFORM – courtesy of Eastern Riverina Arts