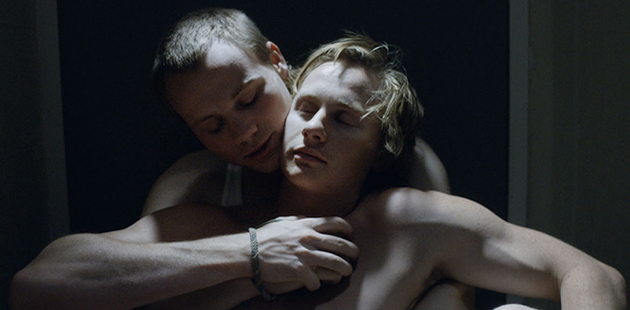 A chilling tale of mystery, redemption and reconciliation, Downriver is the haunting and confronting debut feature from writer/director Grant Scicluna – a new voice in modern Australian cinematic drama.
A young ex-con encounters secrets from the past and danger in the present when he returns to the rural Australian community to discover the truth behind a crime he supposedly committed when he was a child.
A moody thriller awash in grim secrets and slowly surfacing revelations, this first feature from Australian writer-director Grant Scicluna exhibits a formal elegance and thematic maturity we would normally expect from a fully developed auteur. Reminiscent of Winter's Bone or Jane Campion's miniseries Top of the Lake,Downriver courageously deals with loss, identity, trauma, and hard-won redemption.
James (Reef Ireland) has just been released from prison after serving time for drowning a little boy when he himself was just a child. The boy's body was never found, and James, guilt-ridden and still haunted by questions about what really happened that day, returns to the rural community where the crime took place and undertakes a quest to find the body.
Along the way, he is confronted by bullies and sexual predators from his past, and the punishment he risks by breaking parole now pales next to the threat of violence from the shadowy characters emerging all around him.
Downriver boasts a bold sense of place: under the surface of its seemingly sleepy milieu lies a hidden network of abuse and exploitation, blackmail and desire. Scicluna maintains the suspense with spellbinding layers of flashbacks and dialogue, creating a tense atmosphere that's amplified by the riveting performances from Ireland, Tom Green, and Kerry Fox in the role of James' tormented guardian.
Making its premiere at the 2015 Melbourne International Film Festival, Downriver has gone onto many national and international screening. It was awarded the Jury Prize for Best Film MiFo (Fort Lauderdale 2015), and was the winner of four awards: Best Film, Best Director, Best Supporting Actress for Kerry Fox, and Best Emerging Talent for Reef Ireland – at the recent San Diego Film Out Festival.
An Australian film director and writer best known for his work on The Wilding – which won the prestigious Iris Prize in 2012, Grant Scicluna is a graduate from RMIT University School of Media and Communications in Melbourne. He also directed the Iris Prize short film, Hurt's Rescue which premiered at the Melbourne International Film Festival in 2014. Scicluna frequently works with producer Jannine Barnes – this being their seventh collaboration together. His other works includes: Golden Girl, Neon Skin, Fast Lane, andThoona As Fast As We Can.
"a tangled, tense and mercurial work… a visually stunning piece, with superb performances and an utterly gripping story" – The Conversation
Director: Grant Scicluna Featuring: Kerry Fox, Tom Green, Reef Ireland, Helen Morse, Robert Taylor, Steve Mouzakis, Charles Ground, Lester Ellis Jr Director of Photography: László Baranyai Production Designer: Penelope Southgate Sound Designer: Emma Bortignon Music Supervisor: Andrew Kotatko Music: Anthony English Editor: Anthony Cox Producer: Jannine Barnes
For more information, visit: www.downriverfilm.com for details.
Image: Production still from Downriver (supplied)