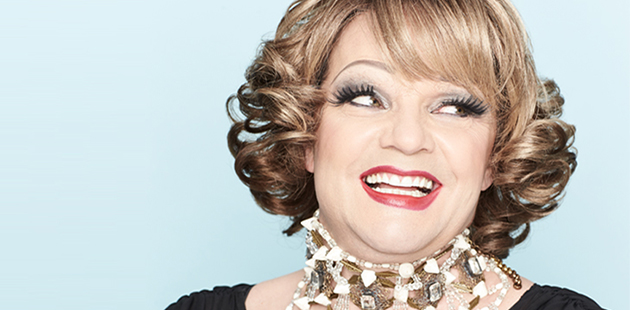 Following her highly successful debut in 2015 with The Real Queen of Moomba, Dolly Diamond returns to the Melbourne International Comedy Festival in 2016 with her new show, Alive Intimate & Up Late.
Her new show, sees this British born diva at the prestigious Melbourne Town Hall in an evening of song and sass and with some very special guests, in a late night chat show format. "I'm thrilled to be performing at the Melbourne Town Hall," says Dolly. "I'll be in the Old Met Shop, which is where they used to sell tickets, I believe… before MYKI ruined everything."
Dolly Diamond is in her element when she's performing for her fans and swapping stories with her very close, personal, show-business friends, and is thrilled to be welcoming an array of celebrity guest stars across the season.
Guests include: Alan Fletcher (31 March), Chelsea Gibb (1 April), Yana Alana (2 April), The Divas (7 April), Jan Van De Stool (8 April), Melissa Langton (9 April), Michael Griffiths (14 April), Supergirly (15 April), and Kane Alexander (16 April). A night of comedy cabaret, these special guests will each perform a song with Dolly.
"I count myself lucky to have such warm and generous friends, who are only too keen to share my spotlight in order to promote what they're up to," adds Dolly.
In this brand new show, Dolly is accompanied by musical maestro Mark Jones. These cabaret icons have selected a collection of wonderful songs, an eclectic mix of reinvented classics and originals. She sings live and she means business. Funny business. Dolly Diamond is one sharp-tongued comedy goddess and she is ready to take the 30th Melbourne International Comedy Festival by storm.
"The highlight is Dolly's interaction with the audience and her band, which redefines what it means to be quick-witted, and leaves the audience hoping for a song so they get a chance to stop laughing and catch their breath." – Herald-Sun
Dolly Diamond: Alive Intimate & Up Late
Old Met Shop – Melbourne Town Hall, Swanston Street, Melbourne
Season continues to 16 April 2016
Bookings: www.comedyfestival.com.au
For more information, visit: www.dollydiamond.com.au for details, or checkout the review on: www.artsreview.com.au
Image: Dolly Diamond