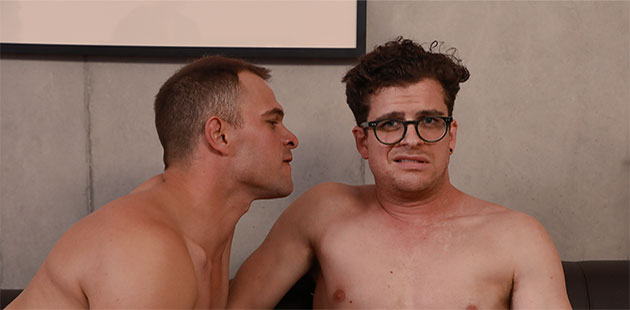 Season One of the hilarious and sexy new queer-positive comedy series that pokes fun at the divisions that run through the LGBTQIA community, with pride and good humour, Ding Dong I'm Gay is now available to view on YouTube.
Based on the 2018 pilot series of the same name, with over 3 million YouTube views, Ding Dong I'm Gay is created by award-winning writer Tim Spencer (Oasis, Cherry Season) and jointly directed by Joshua Longhurst (Oasis, Cherry Season) and Sarah Bishop (Skit Box, Wham Bam Thank You Ma'am). 
Season One of Ding Dong I'm Gay is written by Tim Spencer and Zoe Norton Lodge (ABC TV's The Checkout). Tim Spencer will also star in the series and produce with Joshua Longhurst and Rosie Braye of Wintergarden Pictures, with principal production investment from Screen Australia and financed with support from Screen NSW.
Six years after coming out and moving to Sydney, Cameron's (Tim Spencer) dreams of elite parties and mini-breaks with jaw-lined boyfriends have flatlined. Nevertheless, he is determined to pin down his almost-boyfriend, Jack (Rupert Raineri), and prove to his newly-out cousin, Toby (Brayden Dalmazzone), that he is an all-knowing gay guru.
From how to bottom to hook-up strategy, Cameron mentors his country cousin through the urban gay experience. Toby's naive country charm makes him an instant hit, but Cameron's insecurities soon threaten to drive a wedge between them.
"Our goal with this series has been to push the boundaries of what our audience has come to expect of Ding Dong I'm Gay," said Longhurst and Bishop. "Tim and Zoe have really delivered on this goal; they have written a series that feels big but contains itself beautifully to the short format.
"Each episode is fast-paced, witty and full of everything this queer series needs to feed the massive hunger for fun, sex-positive, diverse content. We had an incredible time working together and are so proud of the team that helped us bring this unique show to life."
Longhurst and Bishop first created content together through a year-long residency at ATYP in 2009 when they first moved to Sydney. With over a decade of experience and a shared passion for comedy, they now bring together their shared experiences to co-direct the delightful and provocative Ding Dong I'm Gay.
Starring Tim Spencer as Cameron, Brayden Dalmazzone as Toby and Rupert Raineri as Jack, Ding Dong I'm Gay features Sarah Bishop, Ben Gerrard, Alex Beauman, Tommy Misa, Cédric Folly, Lachie Pringle, Nick Hose, Benjamin Law, Nunan, Trevor Ashley and Anthony Brandon Wong.
"In this deeply uncertain world, it's been an enormous privilege to have the opportunity to write from the heart alongside one of your closest friends," said writers Tim Spencer and Zoe Norton Lodge. "We wrote this show like it was a little gay fantasy, barely believing it would ever be allowed into the real world. But here we are, and here it is, suddenly far more vibrant and raucous than we ever imagined."
---
Season One of Ding Dong I'm Gay is now available to view on YouTube. For more information, visit: www.dingdongimgay.com for details.
Image: Rupert Raineri and Tim Spencer star in Ding Dong I'm Gay – courtesy of Wintergarden Pictures