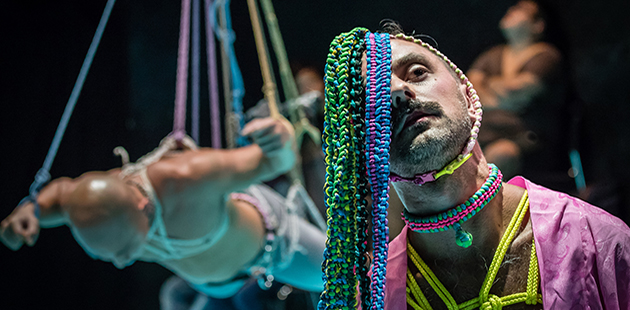 Desires are unleashed, tensions suspended and lines of connection macraméd in the Victorian premiere of Luke George and Daniel Kok's Bunny – an interactive performance using rope at the Meat Market for a limited season from 2 February 2017.
Dance provocateurs Luke George (Erotic Dance, Festival of Live Art 2016) and Daniel Kok (Singapore) exploit the physical properties of rope and knots to unpick the boundaries of desire, trust, consent and communion between artist and audience, 'Bunny' and 'Rigger'.
George and Kok explain that 'Bunny' is a nickname given to the person being tied in rope bondage – "This work asks – what if everyone in the theatre is a Bunny?"
Following a two-week artistic exchange at Campbelltown Arts Centre in 2014, George and Kok agreed to create a dance collaboration that appreciated the physical properties of rope, the aesthetics of knots and the precariousness of the relationship between bodies when connected and bound by rope.
Staged in the round, the web of technicoloured ropes draws performer and audience into an increasingly enveloping bind. In order to suspend tension and to unleash collective desires, Kok and George look to the ancient japanese knot tying technique of 'shibari' and rope bondage to weave together an interactive experience of collectivity.
With a background in socially engaged arts practice, Luke George is Melbourne-based choreographer and performer who has collaborated on new works with Australian and international artists, including Chunky Move, Stephanie Lake, Jo Lloyd, Shelley Lasica, Phillip Adams BalletLab, Frances d'Ath (Berlin), Field Works (Brussels) and ITOH Kim (Tokyo).
Daniel Kok is currently developing artistic research on critical spectatorship and audiences and exploring the notion of Trans-Individuality at the Kinosaki International Arts Center (Japan), where he will work with visual artist, Miho Shimizu (Japan).
Creators & Performers: Luke George & Daniel Kok Lighting Design: Matthew Adey/ House of Vnholy Dramaturgy: Fu Kuen Tang Technical Stage Manager: Gene Hedley Producers: Alison Halit & Fu Kuen Tang Commissioned by: Campbelltown Arts Centre
Bunny
Meat Market, enter 36 Courtney Street, North Melbourne
Season: 2 – 5 February 2017
Information and Bookings: www.artshouse.com.au
Image: Daniel Kok (rear) and Luke George in Bunny – photo by Bernie Ng