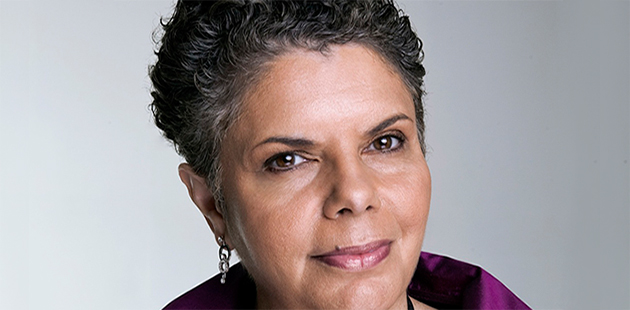 Renowned Indigenous soprano Deborah Cheetham AO shares her unique story of the journey to discover her belonging in a special Sydney premiere performance at the Glen Street Theatre on Saturday 31 October 2015.
Building on her acclaimed works, White Baptist Abba Fan and Pecan Summer, Til the Black Lady Sings is storytelling at its most intimate and personal. With music by Catalani, Cilea, Dvorak, Puccini, Richard Strauss, Vaughan Williams, and herself, Deborah will be accompanied on the piano by her partner, Toni Lalich, and promises "you will laugh, you will cry and you will understand".
A Yorta Yorta woman, soprano, composer and educator, Deborah Cheetham made her international debut in 1997 and has performed in the theatres and concert halls throughout Australia, in the UK, the US and New Zealand.
In 1995 Deborah was awarded a three-month scholarship to study in New York with vocal coaches and repetiteurs from the Metropolitan Opera and Julliard School of Music. This was a critical turning point in her career. Upon returning to Australia, Deborah created her first major work, the critically acclaimed White Baptist Abba Fan and toured extensively with this show for the next five years.
In April 2007, Deborah was awarded a two-year Fellowship from the Aboriginal and Torres Strait Islander Board of the Australia Council for the Arts. This fellowship allowed her to create Australia's first Indigenous opera, Pecan Summer. The following year, she began the process of bringing together in Melbourne, Indigenous singers from around the nation for intensive classical vocal training in preparation for the world premiere of her opera Pecan Summer in October 2010.
The success of Pecan Summer led to the creation of Short Black Opera Company, a national not-for-profit opera company devoted to the discovery and development of Indigenous opera singers. As Artistic Director of Short Black Opera Company Deborah has assisted many Indigenous singers to find their voice through the powerful medium of opera. Successive seasons of Pecan Summer have included performances at the Melbourne Arts Centre (Melbourne 2011), WA State Theatre Centre (Perth 2012) and Her Majesty's Theatre (Adelaide 2014).
In the 2014 Queen's Birthday Honours List, Deborah was appointed as an Officer of the Order of Australia (AO), for "distinguished service to the performing arts as an opera singer, composer and artistic director, to the development of Indigenous artists, and to innovation in performance". In March 2015 Deborah was inducted onto the Victorian Honour Roll of Women.
Deborah Cheetham – Til The Black Lady Sings
Sorlies Bistro – Glen Street Theatre, corner Glen Street and Blackbutts Road, Belrose
Performance: Saturday 31 October – 7.30pm
Bookings: (02) 9975 1455 or online at: www.glenstreet.com.au
For more information, visit: www.glenstreet.com.au for details.
Image: Deborah Cheetham AO – photo by Christina Kingston