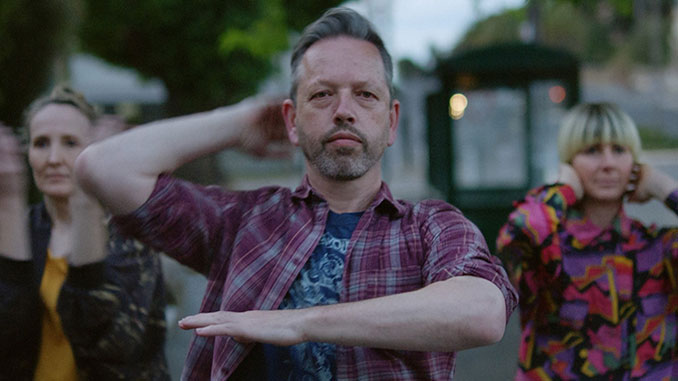 David Rosetzky's commission, Air to Atmosphere explores the diversity, trauma, resilience, and pride of the LGBTQIA+ community on Dja Dja Wurrung Country in Central Victoria.
Presented throughout the Castlemaine Art Museum, commencing with the Terrace Projection screening every evening from dusk, Air to Atmosphere celebrates the LGBTQIA+ community through video, photography, publishing, performance and an extensive website.
Renowned for his multi-disciplinary and collaborative practice, Rosetzky has slowly and gently sought out LGBTQIA+ artists, writers, lyricists and performers in a region known for its predominance of both practicing artists and LGBTQIA+ community.
What is clear is that the LGBTQIA+ community is made up of myriad individuals, who may or may not identify as 'a community'. Stepping forward to work with Rosetzky, even in such an open region, takes courage and confidence.
Meanwhile, throughout the making of this work, a trickle of press reports continues to identify violence and stigma experienced by LGBTQIA+ people across regional and rural Australia.
True collaboration is a key aspect of Rosetzky's work – not just in the forming  of content and meaning but also in the crafted execution of the work – a practice that is perhaps more akin to filmmaking than traditional art.

Air to Atmosphere features Paul Allen, Colin Cameron, Aimee Chapman, Sherene Clow, Rhett D'Costa, Lz Dunn, Harley Dunolly-Lee, Aloyziouz Falcon, Sky Falcon, Stephen Goldsmith, Terence Jaensch, Mitch Nivalis, Casey Rice, Anna Schwann, Alison Shirley, Phillip Siggins, Eden Swan, Louise Terry, Chris Wheat, Paul Williams and Ocean Wolff, all of whom worked with Rosetzky to embody their stories.
In the video Air to Atmosphere, participants go about their everyday lives, talk to camera and perform choreographed movements devised by Jo Lloyd to a song written by local music collective &so and shot on the streets of Castlemaine.
Lyrics from &so's original song Deep Kissing Under Siege were drawn from the participants' interviews, as well as sections from a sonnet by Terence Jaensch, thus reflecting the cross-pollination that occurred throughout the project.
Rosetzky's still portraits document collaborations via the camera. In the accompanying publication these portraits are presented alongside interview excerpts that represent different aspects of each participant's identity, thoughts, opinions and selves. These excerpts form street posters pasted up in the gallery and around Castlemaine.
Rosetzky turns his prodigious skill and deep intuition towards what might be considered a documentary enquiry with a creative outcome. And herein lies his remarkable achievement, to weaken the seemingly stark distinction between art and documentary.
David Rosetzky is an artist who is passionate about finding new ways to represent LGBTQIA+ and marginal identities through an interdisciplinary and collaborative approach to art making.
Often working with practitioners from the fields of theatre, dance, and film, he creates videos, installations and photographic works that question whether our identity is informed by how others see us, or how we see ourselves.
With an extensive exhibition history both in Australia and overseas, Rosetzky has presented his work in over 30 solo exhibitions and 60 group exhibitions.
His Portrait of Cate Blanchett (2008), commissioned by the National Portrait Gallery, Canberra, was exhibited in The Third ICP Triennial of Photography and Video at the International Centre for Photography, New York.
His works are held in numerous collections including the National Gallery of Australia, National Gallery of Victoria, National Portrait Gallery, Art Gallery of New South Wales, Art Gallery of South Australia, Art Gallery of Western Australia, Museum of Contemporary Art Australia, and Monash Gallery of Art.
---
David Rosetzky: Air to Atmosphere
Castlemaine Art Museum, 14 Lyttleton Street, Castlemaine
Exhibition continues to 3 September 2023
Free entry
For more information, visit: www.castlemaineartmuseum.org.au or www.davidrosetzky.com for details.
Image: David Rosetzky, Air to Atmosphere (detail), 2023, still from two channel video installation, colour, sound. Duration 63 minutes 51 seconds. Courtesy of the artist and Sutton Gallery, Melbourne.