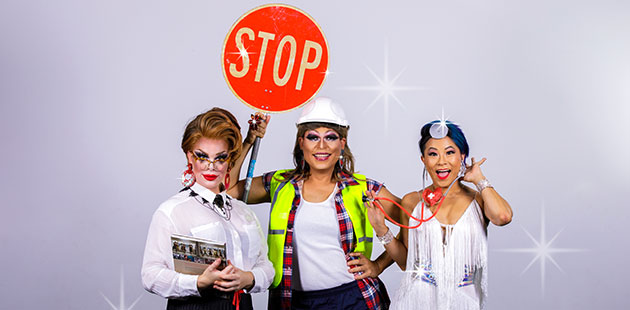 This August, Darwin Festival returns as Australia's hottest winter arts festival with DF20 Homegrown – a reimagined event showcasing the Top End's very best, brimming with exciting live and online events sure to help you re-enter the world in style!
"We at Darwin Festival pride ourselves on showcasing the best talent the NT has to offer, and this year is no exception," says Darwin Festival Artistic Director Felix Preval. "We have reimagined the scale and scope of this year's festival to deliver something special and unique for 2020. This year has provided an exciting opportunity to get back to our roots and program a local line-up with our DF20 Homegrown program, in which old friends find new ways of making magic!
"Our 2020 Festival program features a line-up of Top End superstars, spanning 48 eclectic events across over 10 Darwin venues. Get pumped for fresh musical collaborations, intriguing theatre and dance performances, roaringly funny comedy and cabaret, stunning backyard concerts, and experimental music from dusk till dawn."
Highlights of DF20 Homegrown include:
CABARET:
The dazzling darlings of Darwin's drag scene are celebrating essential workers in all their glory with Drag Divas: Essential Werk. On Saturday 15 August, the Sunset Stage is set to sparkle with an impressive line-up of drag stars, helmed by none other than 2019's LGBTI Australian Artist of the Year, Ben Graetz (aka Miss Ellaneous). Get in the spirit and come dressed as your favourite essential worker to be in the running to win a fabulous prize!
COMEDY:
Find comedian and ABC Radio regular, KC Martin-Stone, at the Darwin Railway Club answering all of your burning questions about death with her signature brand of gallows humour. Don't miss her hilarious musings and taboo-busting antics in I See Dead People on Tuesday 11 August – Wednesday 12 August.
Local lady of laughs, Amy Hetherington, returns to Darwin Festival on Thursday 13 August and Friday 14 August with big news: she's planning to have kids. Her new laugh-out-loud show at the Darwin Railway Club looks at her fears, why dogs are better than people, and why white wine is the greatest enabler of them all.
DANCE:
North of Centre is an immersive, three-part performance celebrating the diversity of the Northern Territory and the rich cultural artistry of South East Asia, in collaboration with Darwin's own Tracks Dance Company, Central Australia's renowned GUTS Dance company, and founder of Darwin's eminent Balinese dance group Tunas Mekar Cultural Collective, Putu Wati with Jocelyn Tribe.
In three short works, performed as a solo, duet, and trio, dancers explore their connection to the Northern Territory and their understanding of its people. Don't miss this dynamic dance triptych on The Playhouse stage at the Darwin Entertainment Centre from Tuesday 11 August – Thursday 13 August.
For some bite-sized entertainment, GIF of Dance is a daily, global, simultaneous project from choreographer Matt Cornell with dancer Kelly Beneforti and local guests. Sign up on the Darwin Festival website to receive a daily SMS on your mobile with an animated gif of a brand-new dance performance, shot on location around Darwin, for the duration of the Festival (with the exception of Monday 10 August).
FAMILY:
On Sunday 9 August, the much-loved City of Darwin Teddy Bears' Picnic finds a new home at Festival Park for a morning full of food, entertainment, games, and of course, Big Ted. Kids and their grown-ups can also join Larrakia Elder, Aunty June Mills, in Festival Park as she tells the story of a little owl and his group of adventurous friends in Witladla on Saturday 15 August and Sunday 16 August. Following the show, children can meet Aunty June and all the lovable characters from the play!
FILM:
This year, DF20 Homegrown is proud to bring to light the extraordinary story of one of Australia's forgotten heroes, Douglas Grant, in The Skin of Others. Screening at the Deckchair Cinema on Monday 10 August, the film features Balang Tom E. Lewis in his final performance as the Indigenous WWI soldier, journalist, and activist.
Enjoy a selection of classic short films from Charlie Chaplin's early career at Darwin Entertainment Centre on Saturday 15 August, accompanied by a live jazz soundtrack from local ensemble, The Jigsaw Jazz Collective.
MUSIC:
DF20 Homegrown kicks off with Housewarming on Thursday 6 August at Festival Park. Celebrate music from remote Australia with a show from double bill, Yilila + Ripple Effect Band at the Sunset Stage on Friday 7 August.
Every Friday and Saturday night of the Festival, audiences can kick up their late-night heels at Club Awi with the best DJs from Darwin and beyond, now under the stars at the Sunset Stage.
Get hyped for a girl's night out full of sass and songs from the Top End's favourite ladies: Caiti Baker, Serina Pech, Stevie Jean, and newcomer Phoebe Wear in Settle Down Sisters on Saturday 8 August. This electric blend of talent will perform solo sets and collaborate alongside phenomenal Darwin artists, Rachel Rachel and DJ Emily Rose at the Sunset Stage.
The long-awaited full-length album from Top End song dogs, David Garnham and the Reasons to Live, is celebrated at their special launch event at the Sunset Stage on Sunday 9 August. Joining the launch celebrations is Darwin's own Choir of Man — a mix of men from all walks of life, coming together to embrace sensitive masculinity with a powerful and charmingly rugged live performance.
Join musical legend Shellie Morris for a night of heavenly harmonies and memorable music on the Sunset Stage on Wednesday 12 August with special guests Djolpa Mackenzie and Leah Flanagan. This incredible celebration of Indigenous language will also include appearances by the women from the Saltwater Divas mentoring project.
Grab a plate of food from one of the many DF20 Homegrown vendors and settle in for free twilight tunes at the Rimfire Energy Bamboo Bandstand in Festival Park. Each night of the Festival sees a different local act, including the likes of Alice Strings, Ben Evolent, Epic Phannies, Bridey Rose, and more.
The beauty and talent of the Darwin Symphony Orchestra returns for two concerts of musical magic with Metamorphosis I (Saturday 8 August) and Metamorphosis II (Sunday 9 August) at Darwin Entertainment Centre. Featuring new work by Darwin composer Cathy Applegate, as well as stunning compositions from classical favourites, the Orchestra will be joined by the rising stars of their Young Artists Program.
Host your very own Distanced Duets from the comfort of your own home! The Arafura Music Collective has a range of duets available from their catalogue of musical talent. Purchase the duet you'd like to perform, invite your guests, and host a special intimate concert from Monday 10 August — Friday 14 August.
Get those fists in the air for the hottest hip-hop house party in Darwin with Birdz + J-Milla and Lil Kootsie on Thursday 13 August at the Sunset Stage. Experience rich Asian culture with Malam (Night) Tutup Mulut, a late-night electro acoustic Indonesian space music experience on Thursday 13 August, and the Pinoy Street Party to celebrate the launch of Kuya James' brand-new album on Friday 14 August – both at the Sunset Stage.
Join the Territory's finest musicians for the premiere performances of Whistling Kite New Music, an ensemble of exciting composers from Australia and around the world, on Sunday 16 August at Brown's Mart Theatre.
ONLINE EVENTS:
Darwin Festival can also be enjoyed while at home with an array of exciting digital events to check out. Over nine days (Thursday 6 August – Friday 14 August), Darwin Aboriginal Art Fair will showcase a vibrant program of cultural performances, artist workshops and demonstrations, Indigenous food experiences, panel discussions, and a children's collaborative art project. With a brand-new online platform powering the event this year, Indigenous art centres will be connected to buyers on an unpreceded scale.
Though the annual fashion runway show, From Country to Couture, is postponed for 2020, the first-ever National Indigenous Fashion Awards is proudly stepping in to showcase the very best of Australian Indigenous fashion and design to the world. Check it out for free when it premieres online on Wednesday 5 August.
The biggest celebration of Australian First Nations music, the National Indigenous Music Awards, returns on Saturday 8 August, with both virtual and physical offerings to choose from. Stay home and watch the event, or make a party out of it and celebrate at a free screening party, live at the Deckchair Cinema.
Wake up each morning to the sublime sound of violin and voice from renowned artist, Eric Avery, with Morning Music – recorded live and available online every morning at 7am for free.
A daily treat for kids is the Team Fun DIY Scavenger Hunt. Get out of the house with an audio scavenger hunt that'll see kids piecing together clues, finding hidden items around Festival Park, and using their creativity to construct a masterpiece that'll get the whole town talking!
SPECIAL EVENTS:
Festival Park officially opens on Thursday 6 August with a traditional Welcome to Country ceremony. For the duration of the Festival, a feed of cartoon heroes in danger will be beamed to an audience of bystanders in Festival Park for Avoidable Perils – a social experiment exploring activism and the need for social cooperation towards a greater good.
Discover Botanicals, an immersive visual work exploring human and plant forms, projected onto sites across the city for six Festival nights on Thursday 6 August, Saturday 8 August, Sunday 9 August, Thursday 13 August, Saturday 15 August, and Sunday 16 August.
THEATRE:
From the team behind Hillbilly Horror and Fah King Ridiculous, The Final Front Ear is a new physical theatre performance coming to Brown's Mart Theatre on Tuesday 4 August – Saturday 8 August and Tuesday 11 August – Saturday 15 August. With the Earth in crisis, the only thing that can save it from destruction is an almost-extinct alien race, affectionately named 'Front Ears'. The crew of Starship Probably Possible begin a perilous mission to track down the Final Front Ear.
Drop into the pop-up bar at Brown's Mart Courtyard during the Festival and unburden yourself of secrets with the bartenders of Love Me Bar(Tender). The show is an intimate one-on-one experience in which the bartenders create personalised cocktails for audience members based on the secret conversations they have with them.
I'll Tell You in Person invites audiences of two on an audio adventure with two best friends and the conversation they've been avoiding for months. I'll Tell You in Person runs from Thursday 6 – Sunday 16 August at Brown's Mart Courtyard.
On Thursday 6 August – Sunday 9 August at Happy Yess, witness comedy genius, Kyle Walmsley in Oyster Boy – a hilarious black comedy theatre work for anyone who's ever failed to fit in. And don't miss Sex Death (and the Internet) from Tuesday 11 August – Sunday 16 August at Happy Yess, which gives audiences the opportunity to ask an elderly artist the big questions of life, death, and everything in between.
VISUAL ARTS:
Australia's most prestigious and longest-running art awards, the Telstra National Aboriginal and Torres Strait Islander Art Awards (Telstra NATSIAA), returns for another year of celebrating artists from diverse geographic regions across the country as they reflect on issues of identity, resilience, and survival. These works can be seen in the Museum and Art Gallery of the Northern Territory or online. Stay tuned for more information on the Awards Ceremony on Friday 7 August, which will also be held online.
Darwin's very own brand of Salon de Refusés is back for another year from Wednesday 5 August – Saturday 26 September at the Charles Darwin University Art Gallery. Now in its seventh successive year, the event features a selection of bold, contemporary Indigenous art that were submitted but not accepted into Telstra NATSIAA – all the while, giving audiences the opportunity to see incredible Indigenous art that otherwise may not have been displayed.
WORDS AND IDEAS:
For something with heart, SPUN returns on Tuesday 11 August at the Sunset Stage with another evening of stories from the extraordinary people who make up the Northern Territory. In SPUN: Heart, hear from some of the Territory's very own Australian of the Year nominees as they share stories set to make hearts flutter.
The 2020 Darwin Festival, DF20 Homegrown runs Thursday 6 – Sunday 16 August. For more information and full program, visit: www.darwinfestival.org.au for details.
Image: Drag Divas: Essential Werk – photo by Duane Preston