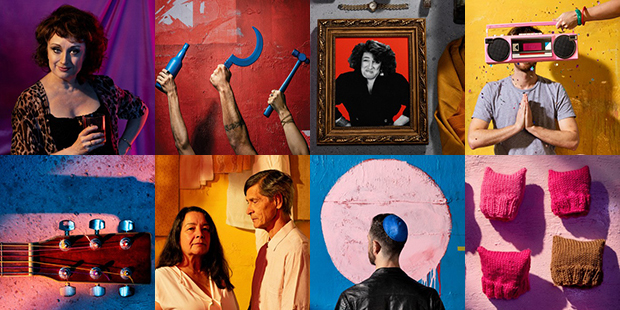 Darlinghurst Theatre Company has unveiled an impressive 2019 season that asks audiences in their 26th year "to explore and respond to the zeitgeist of our times" at the iconic Eternity Playhouse.
"I believe it is our role as a theatre company to explore and respond to the zeitgeist of our times," said Glenn Terry, Director & Chief Executive Officer. "To do this we go straight to the source – to the people who make it their living and mission to do so. Artists, by their nature and their profession, engage with our world and provide a response to it. Artists investigate our lives. They create provocations and generate empathy."
"For the last 26 years, we've invited professional artists to put forward concepts for our company to fund, develop, produce and stage. It's an exciting, intense and risky process, which requires a significant investment by our company. The reward is passionate theatre that leaps off the stage. Our 2019 season is laden with passion projects by inspiring and engaged artists."
"2019 is year of the Creative Hub for Darlinghurst Theatre Company. In addition to our theatrical season, we'll be staging other unique and captivating performances including comedy, dance, cabaret and music. To get even closer to the coalface of the zeitgeist we are also hosting public forums on prevailing issues and creative industry discussions.
"In 2019 we'll remain true to the cause, stage more new work, explore diverse performances and generate discussion. You will be engaged, you will be entertained, and most of all – you will be welcomed," he adds.
The Rise & Fall of Little Voice
Season: 1 – 24 February
A poignant and riotous musical comedy directed by Shaun Rennie and starring Caroline O'Connor as Mari. In a northern English town lives a girl with a secret. Little Voice hides away in her bedroom surrounded by her late father's precious record collection of the great 20th century divas. She escapes into the glamorous world of Marilyn Monroe and Judy Garland whose stylings drift downstairs to a house ruled by her brassey, boozy mother Mari – who is on the prowl, desperately looking for love in all the wrong places. Her latest suitor, Ray Say, discovers Little Voice's hidden talent and is determined to force her into the spotlight to cash in his golden ticket to the Big Time.
Russian Transport
Season: 9 – 31 March
An intriguing comedy turns moral thriller directed by Joseph Uchitel. Following an immigrant Russian family struggling to survive in Brooklyn, dark secrets emerge when a mysterious and charming uncle arrives from Smolensk. He tests family loyalty and preys on their weaknesses. Provocative and disturbingly funny, Russian Transport questions how far one will go for the sake of family and the pursuit of the American dream. Australian Premiere.
Punch Me in the Stomach – Again!
Season: 3 – 14 April
Directed by Alison Summers, Deb Filler and her internationally acclaimed hit comedy returns to Australia. Comedian Deb Filler and her father Sol decide to take a vacation together for the first time. Some people tour Europe, some people explore the Himalayas, but not Deb and Sol – who set out on a whirlwind tour of Eastern European Death Camps. Inspired by a trip Filler made to Poland with her father, a survivor of Auschwitz, this iconic story asks how do we find humour in our most difficult moments? Filler together with friend Lawrence Jackson self-produced the original premiere of Punch Me in the Stomach 25 years ago at Belvoir Street Theatre. Its short season was an instant smash hit that went on to tour internationally to critical acclaim including New York, Boston, Auckland, Philadelphia and Toronto.
Small Mouth Sounds
Season: 3 – 26 May
How do you speak your mind when you can't say a word? Six runaways from city life embark on a silent meditation retreat nestled away in the quiet of the woods. Their vows of silence collide with the achingly human need to connect; how do you speak your mind when you're forbidden to say a word? Directed by Jo Turner, Bess Wohl's hilariously profound smash hit transcends language and asks how do we address life's biggest questions when words fail us? Australian Premiere.
ONCE
Season: 26 June – 21 July
Guy meets Girl in this smash-hit Broadway musical. Once is a tender love story of a struggling Irish musician on the verge of giving up and a piano-playing Czech immigrant who reminds him how to dream. Directed by Richard Carroll and featuring an outstanding ensemble of performers playing instrumentals live on stage. Once is a modern-day musical that reminds us of the power of music to connect us all. With songs from the critically-acclaimed film, including the Oscar-winning song Falling Slowly – this spellbinding score will have you holding your breath from beginning to end. Sydney Premiere.
Rainbow's End
Season: 10 August – 1 September
It's the 1950s in Shepparton, Victoria. Three generations of the Dear family live together in a rundown shack on the Goulburn River flats. Gladys yearns for a better life, a real home and a decent job. Her teenage daughter Dolly has dreams of becoming a nurse, while her resilient grandmother, Nan Dears, is resistant to change. Dolly falls for Errol, a travelling salesman, who offers her the prospect of another world. Together they embark on a journey of belonging where the search for a better life challenges the powerful bond that holds these women together. In this powerful and tender story, where dreams for a fair go lie, acclaimed playwright, Jane Harrison, pens one family's struggle for community acceptance in the Menzies era of Australia.
The God of Isaac
Season: 5 – 22 September
An identity crisis of comedic proportions by James Sherman. When Isaac Adams, a second-generation American Jewish journalist, learns of plans for a Nazi group to stage a demonstration in Skokie, Illinois, he wonders what, if anything, his involvement should be. Determined to find the truth, Isaac goes on a quest to find answers about his heritage, his mother, and himself. Isaac questions a mixture of Jewish folk in his search – including his mother. Any seriousness is punctured with pop culture vignettes, recast with Jewish characters. The stars of Huckleberry Finn, On the Waterfront and The Wizard of Oz, among others, become members of the tribe. It's hilarious… but it drives his mother crazy. Australian Premiere.
Pussy Monologues
Season: 9 November – 1 December 
A manifesto for equality, Pussy Monologues is a celebration of the dark art of counter-attack, generously shared by some of Australia's smartest, funniest and most thoughtful female voices. This is what #MeToo and Time's Up have been about – that it's not just me, it's all of us. It's political. Told from the true stories of ordinary and extraordinary women, Pussy Monologues uncovers the brave, ingenious and darkly funny ways women have survived, outlasted, outwitted and outmuscled the patriarchy. Pussy Monologues seeks to provide an answer to "what's next?" – to help navigate the journey to equality in a fiercely shifting landscape. World Premiere.
And finally, Darlinghurst Theatre Company in association with Sydney Gay and Lesbian Mardi Gras presents the inaugural Darlinghurst Theatre Comedy Fest featuring camp comedians, Jordan Raskopoulos and Rhys Nicholson, and the world premiere of a brand new cabaret show by Maeve Marsden & Libby Wood. Darlinghurst Theatre will be serving up high tea with drag bingo, cocktails and more: 27 February – 1 March.
Subscription packages are now on sale. For more information, visit: www.darlinghursttheatre.com for details.
Image: courtesy of Darlinghurst Theatre Company