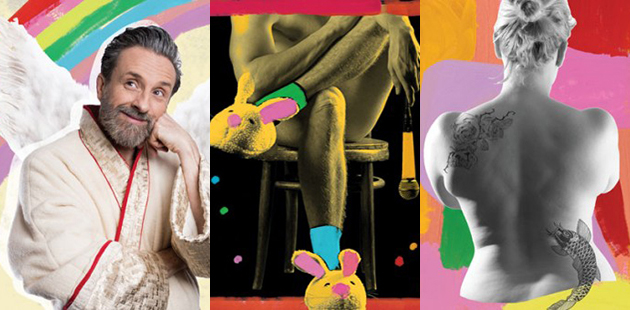 In 2018, Darlinghurst Theatre Company celebrates its 25th year, and its fifth year at the Eternity Playhouse. In its 2018 season of six plays, the Company will present three Sydney premieres, one Australian and one world premiere, and the return of an all-time favourite.
In revealing the 2018 season, Founder and Executive Producer, Glenn Terry said "When I started Darlinghurst Theatre Company, the idea was simple. It began with a question; how do you create a sustainable professional theatre company where artists can stage the stories they want to tell?"
"From our early beginnings at the Wayside Chapel Theatre, it was at the Eternity Playhouse that Darlinghurst Theatre Company finally arrived. In 2015 we became a fully-fledged professional theatre company and developed a unique model for supporting independent artists work."
"In our 2018 season we continue our 25 year commitment to new Australian writing and the LGBTQIA+ community. We celebrate equality, equal opportunity and fair pay. We are proud to achieve gender parity in the employment of artists including playwrights, directors and performers."
This season embodies Darlinghurst Theatre Company's drive and commitment to artists and our community. It is brimful of passionate explorations of our world and our artists have responded to current issues facing Australians now, including: asylum seekers, immigration, racism, same-sex relationships and religion."
An Act of God
2 – 25 February 
An Act of God is a wickedly intelligent, hilariously satiric conversation with God, who has chosen to inhabit the body of much loved Sydney theatre performer Mitchell Butel. Having grown weary of the Ten Commandments, God has come to correct mankind's dire misconceptions about His teachings and deliver a radical re-write. Playwright: David Javerbaum Director: Richard Carroll Featuring: Mitchell Butel. Produced by Darlinghurst Theatre Company – Australian Premiere.
The Sound of Waiting 
31 March – 22 April
A story about hope and survival that cuts straight to the heart. Written in response to Tony Abbott's infamous comment, "Jesus knew there was a place for everything, and it's not everyone's place to come to Australia." The Sound of Waiting is a powerful poetic allegory for our times, exploring displacement, resilience and hope in a world that has closed its doors on humanity. Playwright: Mary Anne Butler Director: Suzanne Pereira. Produced by Darlinghurst Theatre Company – Sydney Premiere.
Molière's The Hypochondriac 
9 June – 1 July
An irreverent and delicious farce where the old world meets the new. Hilary Bell adapts Molière's classic satire for contemporary Australian audiences. The Hypochondriac critiques a society of overdiagnosis and over-prescription that has us clamouring for shortcut fixes and pharmaceuticals. Playwright: Hilary Bell Director: Jo Turner. Produced by Darlinghurst Theatre Company – World Premiere.
Torch Song Trilogy
29 July – 26 August
All good things come in threes. Funny and poignant, Harvey Feinstein's intensely personal collection of three plays chronicles a Jewish New York drag-queen's quest for love, respect and a life of which he can be proud. In celebration of Darlinghurst Theatre Company's 25th Anniversary we reprise one of our all-time hit productions. Playwright: Harvey Fierstein Director: Stephen Colyer Musical Director: Phil Scott Featuring:Simon Corfield. Produced by Darlinghurst Theatre Company.
Maggie Stone 
28 September – 21 October
An honest portrait of modern Australia. Meet Maggie Stone, the hard-hearted face of Australia's belligerents. She's a rude, prickly, fifty-something small loans officer who doesn't owe the world a thing. Described by The Australian as "astutely incisive and often bitterly funny," audiences will find the inherently flawed Maggie Stone frightfully familiar. Playwright: Caleb Lewis Director: Sandra Eldridge Featuring: Eliza Logan. Produced by Darlinghurst Theatre Company – Sydney Premiere.
Love
16 November – 9 December
An unapologetic, passionate and searing exploration of love. Tanya, Annie and Lorenzo desperately seek love in a loveless world. Shackled by grinding poverty and substance abuse they're difficult to like, let alone love. They've been abused, they're abusive, but it is love in all its distorted and mutated forms that holds them together. Playwright: Patricia Cornelius Director: Rachel Chant. Produced by Darlinghurst Theatre Company – Sydney Mainstage Premiere.
In addition, Darlinghurst Theatre Company will be partnering with Playwriting Australia to host the 2018 National Playwrights Festival, and with Women in Theatre and Screen (WITS) to present the 2018 Festival Fatale. The Shalom Institute returns for the third consecutive year with the Australian Premiere of a Timothy Daly play, and they partner with our friends at Milk Crate Theatre on their production Feast – a site-specific work in Redfern..
2018 Subscriptions are now on sale. For more information, visit: www.darlinghursttheatre.com for details.
Image: An Act of God; Torch Song Trilogy and Love – courtesy of Darlinghurst Theatre Company