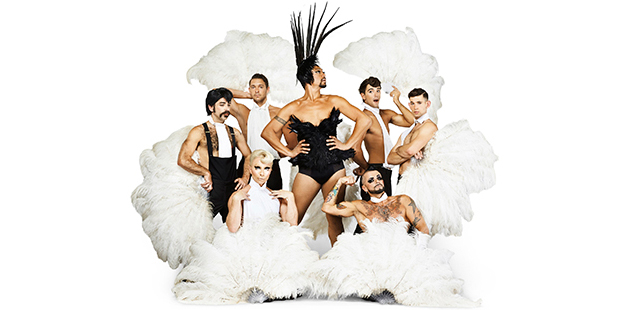 After dazzling sell-out runs in Berlin, London, Paris and Glastonbury, Briefs returns to glitter bomb with a splash of Christmas cheer at Arts Centre Melbourne's Fairfax Studio from 13 to 18 December 2016.
Glamorous host Shivannah will guide the audience through a jaw-dropping, eye-popping evening of extravagant birdbath boylesque, too-close-for-comfort yo-yo tricks, valiant aerial acrobatics, irreverent interludes and show-stopping drag artistes. The cult Australian boylesque sensation is delighted to be back on home turf with more circus, more comedy, more disorder and more burlesque… with balls!
The collective began in 2008 as a speakeasy in the bowels of Brisbane's alternative variety scene and pays homage to the traditions of circus, the extremities of physical theatre, the artistry of drag, the guts of burlesque, the imagery of theatre, the debauchery of speakeasies and the showmanship of cabaret.
They have spawned a production company, Briefs Factory, that develops, produces and presents other award winning independent work all over the world including Hot Brown Honey (Total Theatre Award Winner Edinburgh for Innovation and Experimentation and Playing with form), Brat Kids Cabaret (Special Commendation for Family Theatre Adelaide Fringe), Club Briefs and Sweatshop.
Recent awards received include: Best International Troupe by Burlesque Bible Magazine, Green Room Award – Best Cabaret Ensemble 2016, Best Circus – Perth Fringe 2012, 2013, 2014, and Best Circus – Adelaide Fringe 2015. The line-up also boasts not just one but two kings of Burlesque world champions: King of Burlesque – Burlesque Hall of Fame Las Vegas – Mark Winmill in 2011; and King of Burlesque – Burlesque Hall of Fame Las Vegas – Evil Hate Monkey in 2010.
"No one else does enormous, gloriously perverted fun quite like this." – Time Out
Briefs
Fairfax Studio – Arts Centre Melbourne, 100 St. Kilda Road, Melbourne
Season: 13 – 18 December 2016
Bookings: www.artscentremelbourne.com.au
For more information, visit: www.briefsfactory.com for details.
Image: The Cast of Briefs (supplied)