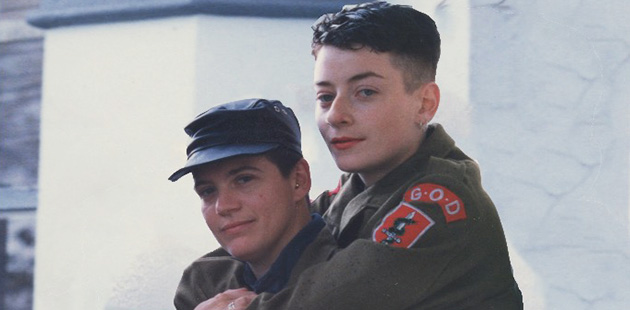 A crowdfunding campaign has been launched to support Wicked Women – an eight-episode dramatic web series based on the incredible true story of Australia's first lesbian erotica magazine.
In the 1980s, as female sexuality was being redefined in magazines such as Cleo and Cosmopolitan and women began to openly discuss female pleasure, a radical counterpart was launched in Sydney by Lisa, a queer woman, and her partner Francine who transitions to Jasper.
Head over heels in love and keen to express their sexuality and shared interest in feminist erotica, they create a cultural movement with their magazine, Wicked Women, and risque Be Wicked performance and dance events.
Their content shocked many, thrilled others and challenged the status quo of lesbian and trans identities in Australia. The magazine offered a space for the expression of sexual fantasy and sassy humour through articles, raunchy photo shoots, illustrations and poetry alongside practical sex advice.
The Be Wicked events, established via support  from Sydney Mardi Gras, served not only as fundraisers for the magazine but as an opportunity for the pair's newfound 'Wicked' community to celebrate their shared identities.
The annual Ms Wicked competition allowed women the freedom to express their innermost sexual fantasies through performance art on stage – another groundbreaking initiative on the Sydney lesbian scene.
Award-winning director Kate Lefoe and producer Hayley Adams now revisit the late 1980s as they bring this extraordinary story to life in an 8 x 10-minute web-series in creative collaboration with Wicked Women's co-founders, Jasper and Lisa.
Filming is slated to commence in 2021. The pilot episode will debut as part of the 2021 Queer Screen Film Festival in Sydney after Kate and Hayley won the 2020 Queer Screen Pitch Off competition.
ORIGINS OF A WICKED LOVE STORY
Award-winning Director Kate Lefoe developed the idea for the web series after discovering the magazines in the Australian Lesbian and Gay Archives' collection. She says Wicked Women is not only a great love story, it is a wonderful piece of Australia's queer cultural history that is yearning to be told.
"We don't hear enough stories about the role of lesbians and trans people in our Australian queer history," she says. "We have our stories like Holding the Man and Riot about the first Mardi Gras but women's stories aren't told enough, especially those women and trans men who are all in their 50s now."
"It could be forgotten and not passed down. I think it has a real potential to be inspiring for young LGBTIQ people. They also started talking about AIDS and safe sex for lesbians at a time when no one was talking about that, for lesbians. They did how-tos for different sex plays, they did fantasy stories and things like 'Test your Erotic IQ' – a quiz that you might find in Cleo or Dolly but with a kink flavour; funny but a bit risque," said Lefoe.
Producer Hayley Adams says Lisa and Jasper were pioneers in their bold discussion of sexuality but also their politics of inclusion within the LGBTIQ community, now referred to as coalition politics. She says the Wicked Women story has a very modern sensibility, particularly relating to the lesbian and trans communities.
"It was a lesbian magazine but they talked about everyone being included – that is still part of the conversation now," she says. "That visibility around lesbian and trans issues is greater now, but was still something being talked about and fought for – it's important to keep that.
"We want to let people know that it has been going on for a while – we are not just hearing about different sexualities now because we have social media. This is something people have been exploring and celebrating for a really long time," said Adams.
COLLABORATION WITH THE CREATORS
Wicked Women's co-founders, Jasper and Lisa, are collaborating with the production team on the web series. Lisa says they had an incredibly creative relationship that allowed them to explore their self-expression with the magazine.
"For me, the relationship solidified my dykehood and gave me confidence to explore the depths of my psyche," she says. "Together we got to express different parts of our psyches: the villain, the virgin, the hero, beggar, saviour and the thief."
Lisa says the magazine was born from their mutual love of erotica and performance but also to offer lesbians a sexual voice. "In terms of dyke representation in 1980s media, there was not much on offer – we never saw ourselves reflected, not even in the gay press," she says.
"In the 1980s, female sexuality was redefined. In magazines such as Cleo and Cosmopolitan, women began to openly discuss female pleasure. There were articles about female orgasm and the clitoris. Though mainstream, these magazines still ignored lesbians."
"Lesbians struggled to be present legally, socially or politically. Not only were we invisible but apparently we were devoid of sexual expression," said Lisa.
The pair created the first few issues on a photocopy machine, stapled them together and sold them through gay and lesbian friendly bookshops. Jasper says the controversial magazine wasn't wholly accepted within the lesbian community. "We copped a lot of flak for pretty much most of what we did," he says.
"Even having a representation in writing of sexuality that involved a phallus was ground-breaking and also incredibly threatening for a lot of the lesbian community, let alone exploring dominance and submission, which of course, was seen as incredibly patriarchal and abusive," said Jasper.
Jasper says they could have gone with more "vanilla" content but the pair were passionate about their own sexual exploration and wanted to share it with others hiding in the shadows. Their events, including Ms Wicked, became renowned in the scene and Jasper says this is a huge part of the legacy set to be shared through the web series.
"Eventually, we had our audience and it was very eclectic because that was our ethos, that we didn't want to live in a lesbian community and we didn't want to live in a gay, male community," he says. "We just wanted a community, and so we invited everyone."
Lisa says it is important to keep Australia's queer feminist history alive, and she hopes audiences will appreciate the pair's love story, their passion and their politics. "We now have the things we fought so hard to achieve," she says.
"In industrialised nations we have queer visibility and loads more rights. But I notice that core themes of the Wicked Women story, such as the support and courage needed to express our authentic self, remain the same," said Lisa.
A radical magazine, a movement and a defining moment in Australian lesbian history, the Wicked Women campaign is supported by Creative Partnerships Australia's MATCH Lab program. The target is $25,000 which will be used to create the first two episodes of the web series. The first $10,000 donated will be matched through the Creative Partnerships Australia's MATCH Lab program.
---
For more information about the series, visit: www.wickedwomenseries.com for details.
Image: Francine and Lisa, GOD Girls of Disgrace uniforms – photographer unknown