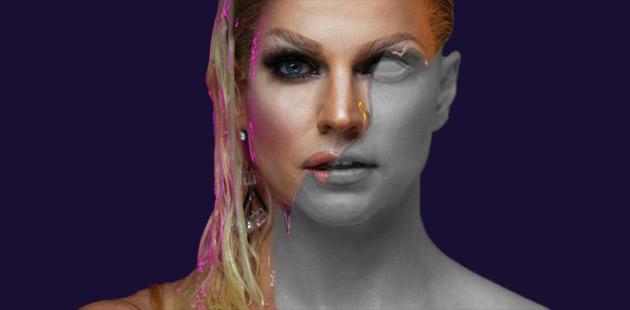 Darlinghurst Theatre Company is proud to present the World Premiere of FLUID by international icon, Courtney Act at the Eternity Playhouse as part of the 2020 Sydney Gay and Lesbian Mardi Gras Festival from 21 February.
Dive into a cool refreshing ocean of fluid sexuality and gender with famed drag artist and cultural provocateur, Courtney Act, as she explores and pours her creative juices into her latest pop-cabaret: FLUID.
In a world just beginning to tear down the cultural dams of the past, we're all now being flooded with ever changing and flowing ideas of who we are, what we are, and what we might become.
"I'm so excited to be escaping the cold of the London winter and coming home to Sydney for the most magical time of the year- Sydney Mardi Gras Festival," said Courtney. "The premiere of my live show, FLUID, at Darlinghurst Theatre Company with an amazing band, costume and original songs, and co-hosting the Live Mardi Gras broadcast will be amazing, although last time I was on live TV my skirt fell off so I hope we don't have any wardrobe malfunctions this time…"
Written by Shane Janek & Brad Lokle, and directed by Cameron Menzies, take the plunge with Courtney into the rapids of our times and the reflective ponds of her own journey with FLUID – an evening of song, soul, sexuality, and perhaps a little saliva (for those who sit too close).
Boy, Girl. Artist, Advocate. Courtney Act is more than just the sum of her parts. She is a contemporary artist who embodies the zeitgeist of an era. One of the first artists to show their gender fluidity, Courtney broke out of the box in 2003 to make it through to the semi-finals of the premiere season of Australian Idol and then signed to Sony/BMG.
In 2014 she returned to the television arena as one of the Top 3 in Season 6 of the Emmy Award winning RuPaul's Drag Race, with a legion of new fans around the world. Courtney then released her debut EP, Kaleidoscope, featuring mainstream pop beats and lux music videos. Her videos online have been viewed over 40 million times.
Proving once and for all that she was more than just a voice and a body, Courtney took on a number of controversial social causes and stories in her award-nominated political series American Act on Junkee.com. The series garnered over 6 million views and saw Act fire a gun, smoke marijuana, and attend a Trump rally in drag.
2017 marked the international tour of her original show: The Girl From Oz. This sold out world tour culminated in her debut at the Edinburgh Festival Fringe with 5* star reviews. 2018 saw Courtney Act and Shane Jenek plow full steam ahead as winner of Celebrity Big Brother UK – educating viewers on queer issues such as gender identity and fluidity, sexuality, same-sex marriage and much more.
After her successful world tour Courtney Act: Under the Covers, she made television history as the host of UK's first bisexual dating show on E!'s The Bi Life to wrap up an extraordinary year in her very own Christmas special, The Courtney Act Show for Channel 4 UK and Peach (Australia).
Not one for resting on her stilettoed laurels, Courtney Act competed in last year 's inaugural Eurovision – Australia Decides, launching her smash-hit single Fight For Love. Making television history again, this time as one-half the world's first same-sex pairing, Courtney Act and Shane Jenek danced their way into the heart of the nation and as a runner up in Network Ten's Dancing With The Stars.
And now, Courtney is super excited to be bringing her new show to the gorgeous Darlinghurst Theatre in February.
"Courtney is in dazzling form. She is a talented singer, a comedienne and an engaging personality that you will struggle not to fall in love with." – Broadway World
---
Courtney Act: FLUID
Eternity Playhouse, 39 Burton Street, Darlinghurst
Season: 21 – 28 February 2020
Information and Bookings: www.darlinghursttheatre.com
Image: Courtney Act (supplied)