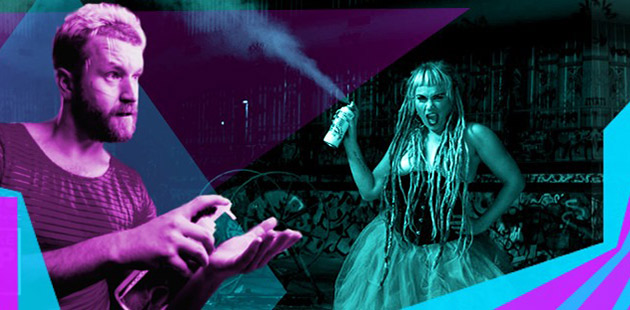 Cooped-Up Cabaret: A Live Stream Variety Show launched last Saturday to a sellout audience – proving to be an innovative and original market leader in the online entertainment arena.
Producer Sophie deLightful has successfully found a monetised home for live-action cabaret in a digital landscape which has been flooded with donation-based and free performance offerings since Covid-19 enforced isolation.
The 4 April launch featured a diverse cast from Australia and New Zealand, with acts including burlesque, cabaret, drag, fire performance, aerials, LED flow arts and clowning. Viewers tuned in from the UK, Canada, Sweden, Australia and NZ.
With households only required to purchase one $15 registration to access the cabaret, viewers were encouraged to use the money they had saved on tipping their favourite performers. This proved a massive success, and alongside earnings from ticket sales, contributed to each act receiving the same average wage of a performance in a regular venue.
In a somewhat unorthodox use for Zoom's Webinar capability, this business conference platform has been transformed into a pay-to-view live stream variety show. Viewers pre-register to secure a front row seat using a Paypal-integrated form. During the show, all non-performing participants can interact using the comments section and tip via PayPal.
To avoid people missing out on future shows, Sophie has upgraded the webinar capacity to 500 viewers. "It is important, in these times, to give people an opportunity to not only appreciate but support the arts," she said. "This cabaret shows that people still value what we do, and is a truly inspirational example for other creatives who may be feeling lost or unmotivated in isolation."
Cooped-Up Cabaret invites performers of any skill level with performance-ready acts to apply for a spot in an upcoming show. For more information, contact Producer Sophie deLightful: 0414827837 or sophiedelightful@gmail.com
---
Cooped-Up Cabaret: Live Stream Variety Show
Performance: Saturday 18 April 2020 – 8.00pm (then every fortnight)
Bookings: click here!
For more information, visit: www.facebook.com for details.
Image: courtesy of Cooped-Up Cabaret