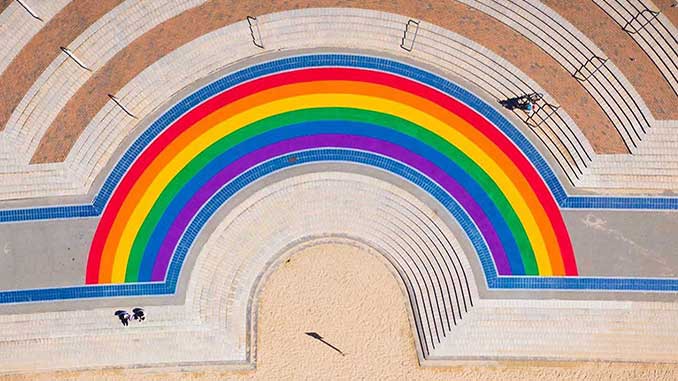 A rainbow walkway installed on the Coogee Beach promenade in February 2021 will remain indefinitely after Randwick City Council unanimously supported a Mayoral Minute to make it a permanent public art fixture.
The 47m-long rainbow was installed in the lead up to the 2021 Sydney Gay and Lesbian Mardi Gras as a celebration of diversity and inclusiveness and has continued to receive support from the community during the COVID lockdown.
The rainbow follows the existing arch shape of the beach promenade and has become a much-loved and much-photographed addition to the beach receiving national media coverage.
Randwick Councillors unanimously voted to keep the rainbow walkway at Coogee at their Council Meeting on Tuesday 28 September. In supporting the project, "The Rainbow Walkway was installed at this location on the Coogee promenade, providing a bold statement of Council support for diversity and inclusivity," said Cr Said.
"The installation has been well received by locals as they interact with, walk/sit/play on, and take photographs and selfies with the rainbow. Not only has it proven to be popular among local residents but it serves as a popular tourist attraction."
"The initiative provides economic development and marketing opportunities for local businesses to capitalise on the initiative and run related Mardi Gras campaigns, such as encouraging people to stay at Coogee hotels."
"Making the Coogee Rainbow Walkway a permanent public art fixture would allow a more publicly accessible and interactive event for the community to celebrate the annual Mardi Gras locally."
"The Coogee Rainbow Walkway has been recognised as a place and destination point on Google Maps. Not only is the colourful public art fixture a symbol for diversity and inclusivity, but its meaning to you can also be what you make it," said Cr Said.
The proposal to make the walkway permanent was brought to Council by Said, who has since been replaced as Mayor by Labor Councillor Dylan Parker. Parker was elected as Mayor of Randwick City Council on Thursday 30 September 2021.
Mayor Parker thanked outgoing Mayor Danny Said for his service to our community. "We've been lucky to have Danny. I look forward to carrying on his legacy," he said.
Image: The rainbow walkway at Coogee Beach – courtesy of Randwick City Council