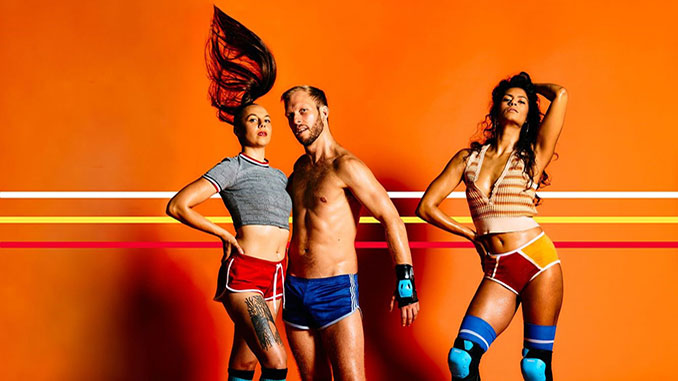 A feature of YIRRAMBOI First Nations Festival and Darebin Arts Speakeasy, proud Wiradjuri man Joel Bray and his talented team of collaborators take audiences on a flirty, filthy and passionate look at the true history of sensuality down under in Considerable Sexual License at Northcote Town Hall this May.
Come in, slip into something a little more comfortable. Let all those inhibitions go baby. We're getting… pre-colonial. Rejecting the conservative straightness of sexual politics in Australia, this provocative performance blends cabaret, comedy, and choreography.
Considerable Sexual License tempts you to explore your own history and relationship to sex, sexuality and personal freedom, while celebrating Country, community, consent and kinship. Don't believe what you've heard: the sexual revolution started well before the 60s.
Disrupting audience expectations of Aboriginal performance, Considerable Sexual Licence features the innovative form Bray's choreography is known for – performers (and performance) moving through, around and under the audience, creating a genuinely immersive experience.
Joel Bray is a Wiradjuri man who trained at NAISDA and WAAPA before pursuing a career in Europe and Israel with Jean-Claude Gallotta, Company CeDeCe, Kolben Dance, Machol Shalem Dance House, Yoram Karmi's FRESCO Dance Company, Niv Sheinfeld & Oren Laor and Roy Assaf.
Joel's practice springs from his Wiradjuri cultural heritage. His works are intimate encounters in unorthodox spaces, in which audience-members are invited in as co-storytellers to explore the experiences of fair-skinned Aboriginal people, and the experiences of contemporary gay men in an increasingly digital and isolated world. His body becomes the intersection site of those songlines – Indigenous heritage, skin-colour and queer sexuality.
Joel's solo performance Biladurang won three Melbourne Fringe Awards and his second work, Dharawungara, was commissioned by CHUNKY MOVE and was a choreographic lament for the ceremony stolen from him by the coloniser. His work Daddy was commissioned by Yirramboi Festival, Arts House and Liveworks (Sydney).
Joel's works have toured to the Brisbane, Sydney, Darwin, Midsumma, Auckland, LiveWorks and Dance Massive Festivals and to Arts Centre Melbourne. He was the 2019 National Library of Australia Creative Arts fellow and is continuing this Burbang research into Wiradjuri ceremony through a series of Australia Council Signature Works grants.
In 2020, Joel adapted Biladurang to a live-streamed performance for the VCR Fest and presented a short work in the Asia Discovers Asia Meeting (ADAM). He is currently undertaking a CHUNKY MOVE Solitude_1 residency re-imaging instagram as a choreographic form and is making a film called Giraru Galing Ganhaagirri for Arts Centre Melbourne.
Direction & Choreography: Joel Bray Performers: Carly Sheppard, Niharika Senapati, Daniel Ewell, Joel Bray Composition & Sound Designer: Daniel Nixon Collaborating Director and Dramaturg: Stephen Nicolazzo Lighting Designer: Katie Sfetkidis Lighting Associate: Rachel Lee Designer: Nathan Burmeister Technical Production & Stage Management: Lucie Sutherland Executive Producer: Alison Halit Program Producer: Lucie Sutherland
---
Considerable Sexual License
Main Hall – Northcote Town Hall Arts Centre, 189 High Street, Northcote
Season: 7 – 15 May 2021
Information and Bookings: www.darebinarts.com.au
Image: Considerable Sexual License (supplied)