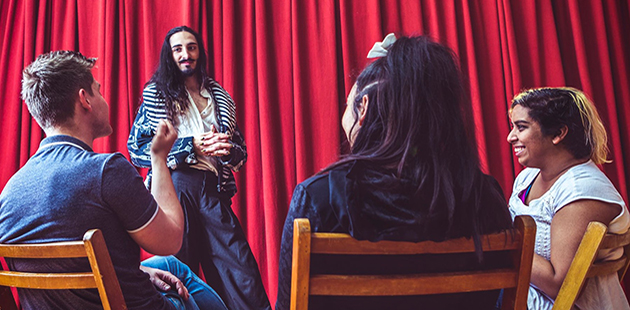 Kick off your Midsumma with the Consent Festival – a one-day, special event on Saturday 19 January at The Melba Spiegeltent – to explore conversations that connect ideas of consent with LGBTQIA+ communities, welcoming intersectionality and accessibility.
Join Quinn Eades (author Rallying, All the Beginnings: A Queer Autobiography of the Body, and 2018 Mary Gilmore Award winner), Nevo Zisin (author Finding Nevo), Ayman Barbaresco (LGBTQIA+ disability advocate), Adolfo Aranjuez (editor Archer Magazine), Bobuq Sayed (founder QTPOC collective Colour Tongues), Margherita Coppolino (inclusion consultant and photographer) and Sonja Hammer(Queer Geeks of Oz).
Also on the profram is Anita Thomasson (Undercurrent Victoria), Dr Gregory Phillips, Dion Kagan (author Positive Images), Natalia Antolak-Saper (Monash University, Faculty of Law), Elise Nyhuis (intersex rights advocate) and Amao Leota Lu (fa'afafine advocate) as well as representatives of Vixen Collective and Safe Theatres Australia (Sophie Ross).
Engage through open forums, practical workshops, deep-dive discussions, and even sparkling performances, all inside a safe space to unpack the taboos, share experiences, and unite in passion and curiosity. Dive in deeper with workshops run by Circus Oz, QTI Yoga, Play Reactive, Concrete Queers and Covert Life Drawing with more to be announced!
Gather at the Melba Spiegeltent for an introduction to the day's key themes including Consent in Relationships, In Workplaces, In Health and In Art. From there, disperse into the Circus Oz building to choose your own journey of sessions including panel discussions, yoga, life drawing or workshops delivered by circus performers and thought leaders.
Consent 101 will be moderated by Archer magazine editor-in-chief Adolfo Aranjuez, and features speakers Anita Thomasson, Gregory Phillips and Margherita Coppolino. Consent in Relationships will be moderated by acclaimed author and speaker on gender Nevo Zisin, with speakers including Quinn Eades, Anastasia Le and Dion Kagan.
Consent in Health is moderated by writer and queer youth worker Bobuq Sayed investigating the role of health organisations and how consent intersects with accessibility, along with Ayman Barbaresco, Elise Nyhuis and Amao Leota Lu. Consent in Workplaces is to be moderated by podcaster and zine-maker Sonja Hammer with representatives from Vixen Collective, Safe Theatres Australia and Monash University.
Between times, the Melba becomes a hub of craft, creativity and conversation for people to connect with speakers and each another. Once the day is done, celebrate this one-of-a-kind event with a range of cabaret and variety superstars hosted by Fringe Wives Club.
The Consent Festival takes place at The Melba Spiegeltent, Collingwood on Saturday 19 January 2019 from 10.00am. For more information, visit: www.midsumma.org.au or www.facebook.com for details.
Image: Consent Festival – photo by Alexis Desaulniers-Lea
Note: Trigger warnings apply. Some sessions will be 18+