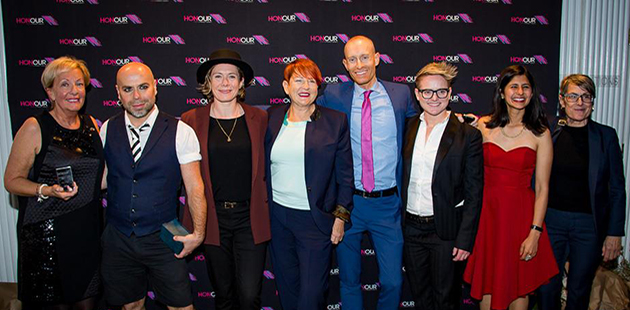 Community organisations dedicated to supporting the most vulnerable members of the LGBTI community were among a diverse mix of community members and groups honoured their work in support of LGBTI communities at the Honour Awards in Sydney on Wednesday night.
Hundreds of people and organisations from across NSW and Australia came together to celebrate the achievements of equality champions and unsung heroes, as well as the strength and resilience of the LGBTI community.
Now in their 11th year, the Honour Awards recognises outstanding achievements within, or contributions to, NSW's LGBTI community. Attended by 350 community members, the awards also serve as a gala fundraising event for LGBTI charity Aurora and for ACON, NSW's leading HIV support, HIV prevention and LGBTI health organisation.
The winners were selected from a diverse field of over 230 nominations and 28 finalists, and their awards were presented at a ceremony at the Ivy Ballroom in Sydney. The event also raised thousands of dollars for LGBTI health initiatives supported by ACON and Aurora.
At a stressful time for LGBTI communities around the country, organisations dedicated to supporting, defending and fostering our diverse communities received the majority of the accolades.
Twenty10 incorporating GLCS NSW picked up the Health & Wellbeing Award for years of supporting and caring for young LGBTI people and their families, through the range of specialised services including counselling, mental health support, medical clinics, social groups, transitional housing and accommodation.
It's second time lucky for Dowson Turco Lawyers who picked up the Business Award  for being one of NSW's leading LGBTI law practices; providing substantial pro bono work, community partnerships and support for key community organisations, and for their commitment to provide legal services that specialises in the needs of LGBTI people and their families.
Cultural icon of Sydney's Inner-West, the community-owned and operated Red Rattler took out the Arts and Entertainment Award for creating a queer-based venue to showcase a truly diverse range of alternative Sydney arts, performance and grassroots activism for over nine years.
The Community Group Award went to Rainbow Families Inc., for being a strong voice for LGBTI parents and their children in NSW, providing strong advocacy, support and opportunities to celebrate all families within our communities.
Elaine Czulkowski was presented with the Community Hero Award for her over 20 years of LGBTI rights advocacy, including most recently her tireless efforts as a key campaigner, in both a volunteering and professional capacity, for Australian Marriage Equality.
Ms Czulkowski has also used her professional contacts and expertise to create networking and professional opportunities for emerging LGBTIQ professionals as a Board Member for Out for Australia. She has also volunteered as a Board Associate on Queer Screen's committee in 2014, making sure that this important LGBTIQ film festival has the support it needs to continue.
Advocate for LGBTI people from culturally and linguistically diverse backgrounds, Mikhara Ramsing was the recipient of the Young Achiever Award for establishing a comprehensive range of social enterprises and community projects aimed towards improving the lives of ethnically, culturally and religiously diverse LGBTI people.
The ACON President's Award went to The Kirby Institute and its founding director, Professor David Cooper AO, for over 30 years of life-changing research and work; establishing the evidence base for much of Australia's HIV response.
For the first time there were joint winners in the Media category. Reporter for the ABC's 7:30 Monique Shafter was recognised for her powerful and influential profile on Peter 'Bon' Bonsall-Boone and his fight to expunge a second historical homosexual conviction dating back to the 1950s. Media outlet NT News was also recognised for its front page imploring the Federal Government to abandon its plan to force Australians to take part in a same-sex marriage postal survey.
Finally, Sydney artist Guy James Whitworth received the Cayte Latta Memorial Award for Visual Arts for various works exploring LGBTI culture and content including sexuality and identity.
ACON President Justin Koonin congratulated the winners and all the finalists on their achievements and community service. "Wednesday night's event was a truly inspirational and thoroughly entertaining evening and a great celebration of the dynamic spirit of our community," said Mr Koonin. "I'd like to thank all the people who submitted nominations, our independent judging panel, as well as all our guests for coming along and supporting ACON and Aurora."
For more information, visit: www.honourawards.com.au for details.
Image: 2017 Honour Awards Winners – photo by deepfield photography