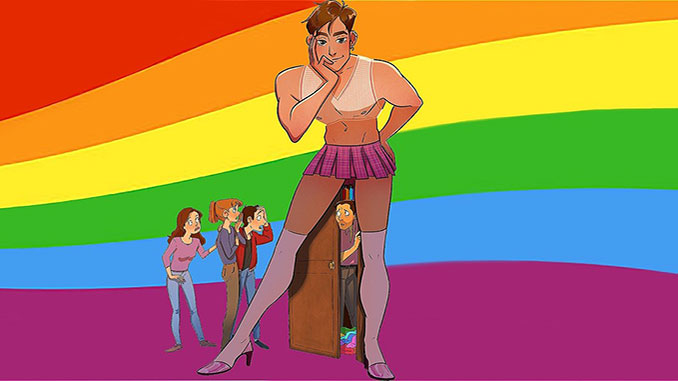 A very serious comedy about denial, Scott Taylor presents the world premiere of Coming Out, at Chapel Off Chapel, as part of the 2023 Midsumma, this February.
Coming Out is the story of a gay man so deeply closeted in his youth that he found a woman he could love. Twenty-six years later, still happily married with two adult children, his denied truth is testing his fidelity.
When an online hook-up, annoyed at being ghosted, shows up at their house, long-held secrets are set to explode. Utilising drag, original songs and online dating exchanges supporting a narrative swinging wildly between comedy and drama, Coming Out has a sting in its tail.
Scott Taylor is an AWGIE Stage winner and the creator of the ABC comedy Moonman. He has headed script departments locally and overseas. Having raised the money to mount this independent production by driving a Melbourne bus through the Covid pandemic, he felt he'd be the only person brave enough to stage such a provocative production.
Presented as part of Melbourne's Midsumma Festival and proudly supported by Stonnington Council Arts Program, Coming Out is both a wildly funny and challenging exploration of fluid sexuality and online queer culture.
"I came out over 30 years ago and my writing has rarely explored that aspect of my life," said Scott Taylor. "When I listed all the queer experiences that impacted me, I had dozens of topics."
"I searched for a story that touched on the best of those ideas in an accessible and entertaining way. Coming Out is the result."
Boasting an impressive local creative team that includes: Perri Cummings, actor, writer and Midsumma regular (Silvertop Ash, The Girlie Show, We Were There); Olivia Piplios, an actor making her mark with two recent short films for up-and-coming directors (Choices and Lies and Starlings of the Hyperreal), and Stephen Loftus, who sings and sizzles in what is likely to be his breakout role (Meerkat Productions, Ernani, Muzicbug).
---
Coming Out
The Loft – Chapel Off Chapel, 12 Little Chapel Street, Prahran
Season: 9 – 19 February 2023
Information and Bookings: www.chapeloffchapel.com.au
Image: Coming Out (supplied)