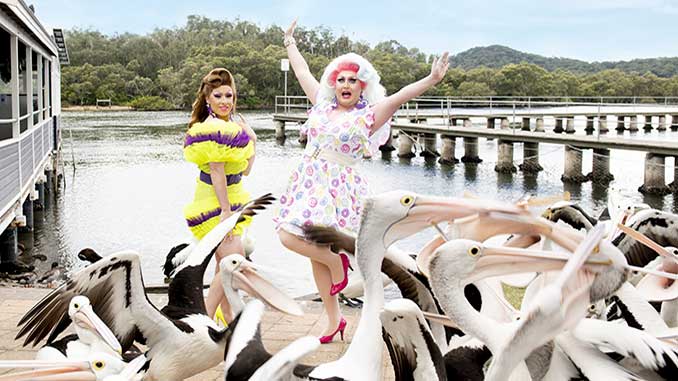 Coastal Twist LGBTIQ Arts & Culture Festival is back! Already enshrined as a unique & much loved "original quirky Australiana" vibrant regional experience that's not to be missed.
The annual event welcomes visitors from across the country of all ages & abilities. With an incredible 75% of the festival's event program free to attend there is no excuse to not be part of the fun which includes over 100 local businesses, organisations, venues and outdoor beach and park spaces.
Launched on the Central Coast, NSW in 2019 and unlike anything the region had ever delivered in terms of contemporary and inclusive Arts & Culture the festival ethos has not shifted, it's all about "fun for everyone" and "trying new things" across, arts, culture right through to our local offerings from makers to foods and local Gins and Beers, Lemonades, and chai's!
Coastal Twist is a unique local celebratory point of difference, a feel-good contemporary entertainment event connecting Coasties, communities and visitors with something for everyone across families, party goers, teens, and seniors (accessible spaces and Auslan).
As the festival continues to grow, so does the program now an epic fifteen events across seven days from Tuesday 27 September through to Monday 3 October. Event highlights include:
Change Visual Arts Exhibition – 27 September to 4 October
Coastal Twist LGBTIQA+ Arts & Culture Festival will be shining the light on local and visiting visual artists. From emerging to professional, Change is a curated exhibition that celebrates LGBTIQ visual artists that interpret the festival theme.
Foxy Silvers Waterfront Picnic – Wednesday 28 September
Foxy Silvers is the regular monthly social club happening for people of diverse sexualities and genders (LGBTQ+) aged 55 and over. Come along and catch up with old friends or make some new ones as we celebrate together! Bring a rug, some nibbles and lunch – BYO and if you're feeling generous a plate to share!
The Love Club Cabaret – Friday 30 September
Hosted by the original Glamourboi Sexy Galexy and Sydney's Juicy Camp 90s Mum Peach Fuzz and featuring some of Australia's most significant LGBTIQ Artists across stage, screen and club scenes all in for an immersive evening that's busting loose with connection, vibrancy and soul food with a heavy dash of surprise headliners.
Beach Party Picnic Day – Saturday 1 October
Yes it's back – so pack your hamper, brolly, towels, whatever it takes to make you comfy and happy, then grab your mates or come alone (and expect to make some) for some safe fun in the Coastie sun! FREE, all ages community wide event this one is about safe outdoor spaces, having fun, seeing old friends, and making new ones as we soak in good vibes, high fives & diversity as the norm!
Kweens of Comedy – Sunday 2 October
Get ready for some serious belly laughs with a side serve of yummies as the awesomeness that is Kweens of Comedy hits the Coast with their stand-up and variety showcase. Hosted by the Hosted by the effervescent AJ Lamarque, it's a show unlike any other featuring Cassie Workman, Béa Barbeau-Scurla, Naomi Mourra, Natali Caro, John Glover and Lauren Budden.
Coastie Carnie Fair Day – Monday 3 October
Everyone is invited to the beating heart of the Coastal Twist Festival. The Coastie Carnie Fair Day is where absolutely everyone from near and afar comes together to celebrate humanity and connection in a fun and culturally rich day of art, entertainment, food, shopping and pets with a mass outdoor picnic. This iconic FREE event features global headliners Electric Fields playing live, internationally recognised innovators of physical and visual theatre and the Puparazzi Pooch Parade.
Supported through the NSW Government's Regional Events Acceleration Fund, Parliamentary Secretary for the Central Coast Adam Crouch said the Regional Events Acceleration Fund is about supporting the growth of existing regional events.
"Money is rolling out right across regional NSW helping local events just like Coastal Twist go from strength to strength and putting regional NSW on the map," said Mr Crouch.
---
The 2022 Coastal Twist Festival runs Tuesday 27 September to Monday 3 October. For more information and full program, visit: www.coastaltwist.org.au for details.
Image: Victoria Mykles Queen and June Richards – photo by Lisa Haymes