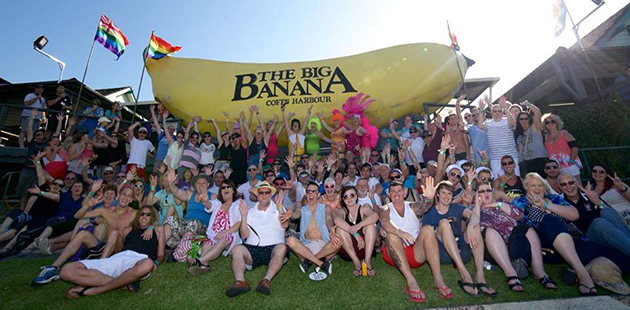 Organisers of the award-winning CoastOut Festival in Coffs Harbour have announced the 2015 festival maybe in doubt unless new organisers can be found.
A statement on the CoastOut Facebook Page said: "After much thought, deliberation, discussion and decision making we are not in a position to deliver a 3 night, 2 day festival in 2015. It leaves many of us with a very heavy heart."
"Rather than close the door completely, we would like to give people the opportunity to continue the festival in 2015. Any interested parties can email info@coastout.com.au with a proposal. If not, we may bring the festival back at a later date, if the necessary support is there."
"On behalf of the CoastOut team we'd like to thank all of our amazing sponsors, volunteers, performers and most of all the loyal CoastOuter's who supported the festival during the first five years. Many magic moments have been had by thousands. We thank you for being a part of it."
In a recent article in the GLBTI Newspaper Star Observer, CoastOut Festival Director, Todd Buttery said: "It's been a very long decision making process — even during the last few years. Each year we said 'if only 200 more people came', the festival would be in a sound financial position. We felt like we tried everything with the limited budget we had."
"Buttery highlighted that while the financial state of the 2014 festival was 'better than the previous four years', it was 'simply not enough' to allow 2015 to happen."
Awarded Community Event of the Year in 2012 and receiving Destination NSW Flagship Event status in 2013 & 2014, CoastOut is the Coffs Coast's annual Gay, Lesbian and Friends Festival attracting people from around the  region and throughout Australia. Events have included: Surf Carnival, Fair Day, Barefoot Bowls, Dance Party and a day trip to the Big Banana.
For more information, and to keep up-to-date on the status of the 2015 festival, visit: www.coastout.com.au or the CoastOut Facebook Page for details.
Image: CoastOut at the Big Banana in Coffs Harbour – photo by Tony Allison