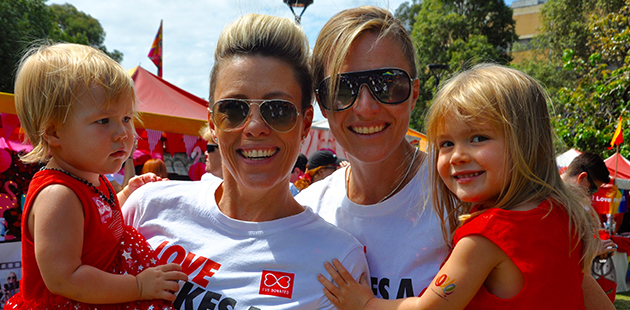 Australia's largest gathering of Aboriginal and Torres Strait Islander cultures, an exhibition by LGBTIQ artists and support for rainbow families are some of the latest projects to receive funding from the City of Sydney.
The City will provide more than $330,000 in cash and in-kind support to a series of community events and projects in the 2017–18 financial year through its social and matching grants programs. Twenty-seven projects were chosen for their capacity to celebrate culture and creativity, support the economy and business, ensure environmental sustainability and build community.
Lord Mayor Clover Moore said the grants program was designed to support significant community events and initiatives. "Projects like these make such a difference in our community and they're often put together on not much more than the smell of an oily rag. In fact many would not be possible without these grants," said the Lord Mayor.
"We award grants to organisations that are facilitating projects and events that will benefit communities throughout the city. This is about building a stronger, more resilient community."
Projects to benefit from the latest round of social and matching grants include:
an annual festival of events to celebrate refugees and the positive contributions they make to Australia;
a commemoration service to honour Aboriginal and Torres Strait Islander veterans;
Yabun Festival, which provides a voice and promotes the living cultures of Indigenous communities;
a children's workshop on basic coding techniques;
six new garden beds in the Green Square area for community use; and
an exhibition of historic images and works by LGBTIQ artists marking the 40th anniversary of Mardi Gras in March 2018.
Bernadette Foley of Rainbow Families Incorporated, said a $10,000 matched cash grant from the City will help make their Love Makes A Family project a reality and support rainbow families to participate in the 2018 Mardi Gras parade. "Rainbow Families can't wait to celebrate 40 years of Mardi Gras, celebrating our message that Love Makes a Family," said Bernadette.
"We are very excited and grateful to partner with the City of Sydney, and look forward to truly sparkling in the parade. This will give our rainbow families an opportunity to celebrate their identity, uniqueness, inclusion and acceptance in the broader LGBTIQ community."
All grant applications are assessed against strict criteria to ensure the projects are able to meet the City's objectives. The next round of the City of Sydney's social and matching grants programs will open in February 2018. For more information, visit: www.cityofsydney.nsw.gov.au for details.
Image: Rainbow Families – courtesy of City of Sydney