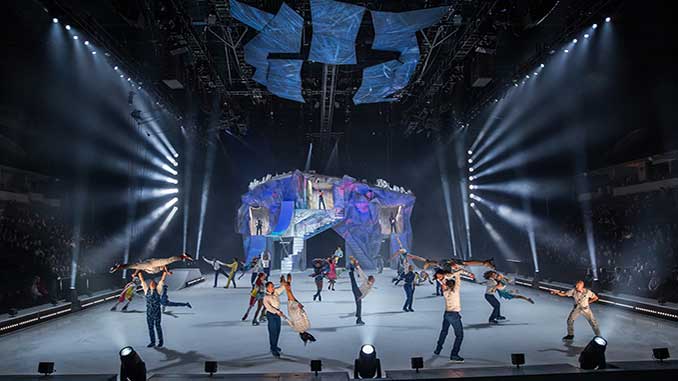 A one-of-a-kind production that brings the circus arts to the ice for the very first-time, Cirque du Soleil presents CRYSTAL, currently playing at the Brisbane Entertainment Centre until 30 July, before touring to Sydney, Melbourne, Adelaide and Perth.
Thrilling more than 1.8 million people worldwide since its creation in 2017, CRYSTAL blends the art of skating with adrenaline-inducing acrobatics and aerial feats. The show takes audiences on a whimsical journey into a vivid and imaginary world where up is down, left is right, and nothing is as it seems.
In addition to the gravity-defying traditional circus disciplines, the production also features traditional figure skating and extreme skating – two disciplines that have never been seen before in a Cirque du Soleil production.
Created by Shana Carroll and Sebastien Soldevila, CRYSTAL takes audiences on an exhilarating journey of self-discovery full of whimsy and wonder. Feel your adrenaline soar as you dive into a world of playful imagination with the show's protagonist, Crystal, as she becomes who she was always destined to be – herself.
Crystal is a creative young woman who feels misunderstood and out of sync with herself. To escape her reality, she ventures out on a frozen pond and falls through the ice into an upside world.
In this underwater world of her imagination she sees a reflection of herself. Her reflection guides her through this new world and wakes her up to her own creativity. As Crystal continues her journey she turns her quirks into creativity with the stroke of her pen. With this newfound power, she is able to find her true self and journey back up to reality.
The show CRYSTAL is about looking at things from fresh angles, peeking through the veneer of everyday life, reframing one's daily reality to see what one might have missed. Sometimes the only way to appreciate things is to look at them sideways. Discovering one's individuality and uniqueness requires venturing out on thin ice.
Using astounding on-ice visual projections and a soundtrack that seamlessly blends popular music with the signature sound of Cirque du Soleil, CRYSTAL transports audiences on a visual and auditory acrobatic experience that's suitable for all ages.
CRYSTAL is Cirque du Soleil's 42nd creation and the company's very first acrobatic experience on ice. Since its creation in 2017, the show has toured to over 115 cities in 12 different countries including Canada, the US, UK, Mexico, France, Germany, and more!
This one-of-a-kind performance features seven traditional circus acts including trapeze, hand-to-hand, Banquine, aerial straps, hand-to-trapeze, juggling, and hand balancing – all performed on ice! The show travels with 80 pairs of skates (both hockey and figure skates) and each artist wears up to 4 pairs per show!
CRYSTAL is Cirque du Soleil's first and only touring show to incorporate multiple remastered pop songs into the soundtrack of a show including Beyoncé's Halo, U2's Beautiful Day, Nina Simone's Sinnerman, and Sia's Chandelier.
"It's no secret that Australians love Cirque Du Soleil. We are thrilled to continue our long-standing relationship with this incredible organisation. It's a privilege to work with such a talented group of people who embrace boundless creativity," said Geoff Jones, TEG CEO.
"We know Aussie fans will be blown away by CRYSTAL. This show is everything that you love about Cirque Du Soleil and so much more."
---
Cirque Du Soleil's CRYSTAL is currently playing at the Brisbane Entertainment Centre until 30 July 2023, before playing Qudos Bank Arena, Sydney (3 – 13 August); John Cain Arena, Melbourne (17 – 27 August); Adelaide Entertainment Centre (31 August – 3 September) and RAC Arena, Perth (15 – 24 September). For more information, visit: www.cirquedusoleil.com for details. Checkout the trailer here!
Image: Cirque du Soleil presents CRYSTAL – photo by Matt Beard | costumes by Marie Chantale Vaillancourt | © Cirque du Soleil 2019