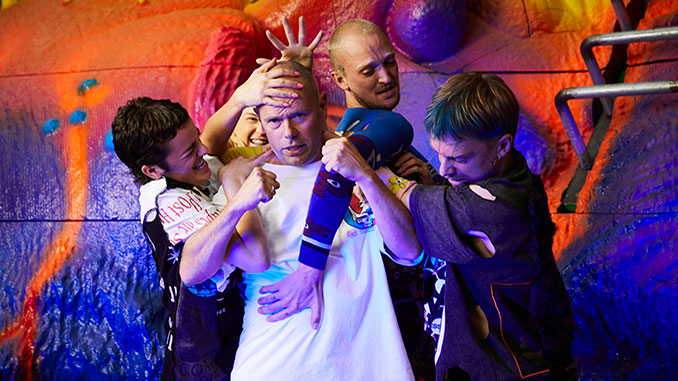 Melbourne's foremost contemporary dance company Chunky Move is set to premiere its highly anticipated new work, Yung Lung, at Carriageworks 20 – 23 January as part of Sydney Festival, before traveling to Melbourne for a hometown run at The Substation 1 – 12 February 2022.
Originally commissioned in 2020 by RISING's inaugural A Call to Artists initiative, Yung Lung was due to debut in last year's festival, before it was cancelled.
Only his second work since his appointment as artistic director, Antony Hamilton's pulsating techno treatise was developed as a panacea to the trauma of the past two years.
Dancers rave on a monolithic audio-visual podium, possessed and propelled by an extreme barrage of visual content trawled from the depths of the digital universe.
"It feels like the right time for Yung Lung, as we've tried to capture something of the essence of the current moment in this work," said Antony Hamilton. "It's really about youthful resilience in the face of the barrage of information and noise the younger generation contends with daily.
"It's about those young lungs, breathing in and out, and getting lost in the trance ecstasy of dance as the way to be elevated forward beyond this moment in time".
Hamilton's astonishing ability to weave together the country's most eminent and interesting creatives across music, design and art, has led to a collaboration of the kind only seen once every decade.
Dancers stomp on the god-like effigy by internationally renowned visual artist Callum Morton, as on onslaught of online imagery – manipulated by acclaimed music producer Kris Moyes – rains down.
Sweat soaks through Perks & Mini (P.A.M.) designed club regalia as Bosco Shaw's lighting pulsates to the bass-heavy soundtrack of techno producer and composer Chiara Kickdrum.
Since its inception in 1995, Chunky Move has helped shape the Asia Pacific's cultural landscape, intoxicating and enthralling local and international audiences with its genre-defying works.
Concept, Direction & Choreography: Antony Hamilton | Performers: Madeleine Bowman, Rachel Coulson, Marni Green, Samuel Harnett-Welk, Cody Lavery, Summer Penney, Ren | Understudy: Damian Meredith | Set Design: Callum Morton | Composition/Sound Design: Chiara Kickdrum | Lighting Design: Bosco Shaw | Costume Design: P.A.M. | Video Content Creation: Kris Moyes | Video Content Assemblage: Kris Moyes and Antony Hamilton | Rehearsal Director (First Development): Melanie Lane
---
Yung Lung
Carriageworks, 245 Wilson Street, Eveleigh
Season: 20 – 23 January 2020
Bookings: www.carriageworks.com.au
The Substation, 1 Market Street, Newport
Season: 1 – 12 February 2022
Bookings: www.thesubstation.org.au
For more information, visit: www.chunkymove.com for details.
Image: Chunky Move artistic director Antony Hamilton (centre) and Yung Lung dancers – photo by Peter Tarasiuk