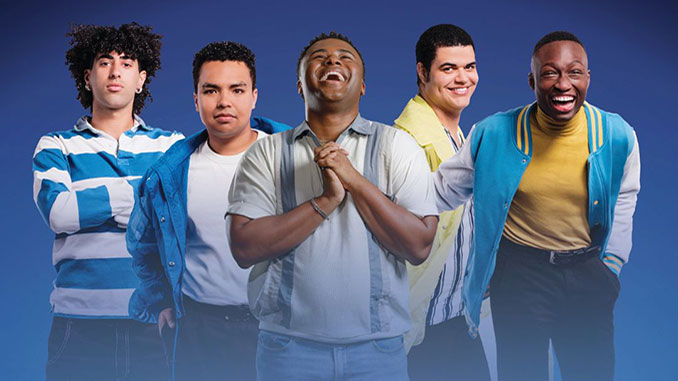 Riverside's National Theatre of Parramatta (NTofP) is delighted to present the Australian premiere of Choir Boy, by the Academy Award® winning writer of Moonlight, Tarell Alvin McCraney.
Playing at Parramatta's Riverside Theatres in association with Sydney WorldPride from 14 February – 11 March, the show will then embark on a national tour across Brisbane, Canberra and Wollongong.
Choir Boy is a Tony Award® nominated play – threaded throughout with soul-stirring a cappella gospel hymns. It is a moving story of sexuality, race, gospel music, and a young queer man finding his voice. The play premiered in 2012 at London's Royal Court Theatre, before seasons across the USA and a successful Broadway production.
Determined to make his mark, Pharus Young is hell-bent on being the best choir leader in the 50-year history of Charles R. Drew Prep School for Boys. In a world built on dusty rites and rituals, how can he maintain his shine while trying to conform to masculine expectations and gain the respect of the choristers he leads? 
Starring a stellar cast featuring international musical theatre performer Darron Hayes (Denver Centre for Performing Arts' Choir Boy), alongside Tony Sheldon (Priscilla, Queen of the Desert), Robert Harrell (The Shield), Zarif (Lonesome),  Quinton Rofail Rich (Godspell), Theo Williams (Passing Strange), Gareth Dutlow, Abu Kebe and Tawanda Muzenda (professional debuts).
With direction by Dino Dimitriadis and Zindzi Okenyo, and musical direction by Allen René Louis (Broadway Inspirational Voices), Choir Boy blends the language of high school hallways with the soulful sounds of gospel for an unforgettable night at the theatre.
Directors: Dino Dimitriadis, Zindzi Okenyo | Starring: Darron Hayes, Tony Sheldon, Robert Harrell, Zarif, Quinton Rofail Rich, Theo Williams, Gareth Dutlow, Abu Kebe, Tawanda Muzenda | Musical Director: Allen René Louis | Set Design: James Browne | Costume Design: Rita Naidu | Lighting Design: Karen Norris |  Sound Design: Brendon Boney | Choreographer: Tarik Frimpong | Dialect Coach: Angela Sullen | Intimacy Director: Cessalee Stovall | Creative Futures Assistant Director: Masego Pitso | Stage Manager: Adrienne Patterson | Assistant Stage Manager: Alice Cavanagh | Production Associate: Hannah Crane, Paper Jam Productions | Company Manager: Jen Jackson | Casting Director: Rhys Velasquez, Evolution Casting | Playwright: Tarell Alvin-McCraney
---
CHOIR BOY
Lennox Theatre – Riverside Theatres, Corner Church and Market Streets, Parramatta
Season: 14 February – 11 March 2023
Bookings: www.riversideparramatta.com.au
Following the Parramatta season, Choir Boy will play the Cremorne Theatre – QPAC, Brisbane from 15 March; the Wollongong Town Hall from 22 March; and the Canberra Theatre Centre from 29 March 2023.
Image: The Cast of Choir Boy – photo by Robert Catto