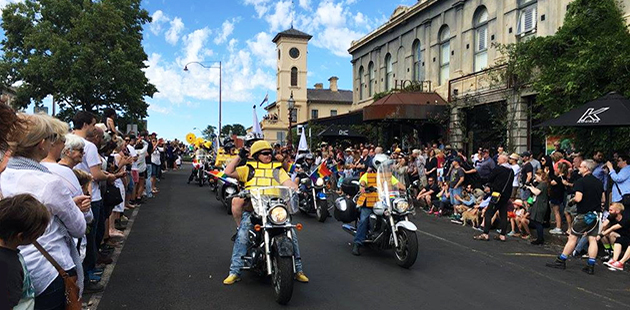 Australia's premier celebration of Queer Country Pride, ChillOut Festival will transform regional Victoria's LGBTI mecca of Daylesford in the idyllic Hepburn Shire, for a five-day 21st birthday party from Thursday 8 to Monday 12 March 2018.
Celebrating 21 years of being out and proud, the hugely popular annual festival boasts an extensive program of more than 50 events that are as diverse as the queer community and its extended family of friends and supporters.
From bingo, bush walks and bike rides to exhibitions, exquisite dining experiences, dance parties, comedy and drag, the celebration features a stellar line up of entertainers including Ladyhood, Monique Brumby, Nat Allison and Casey Freeman at Cream 2018, comedians Geraldine Hickey, Adam Richard and Sue Ann Post plus drag royalty Miss Candee, Rita La Coqueta and Sue Ridge.
Since its humble beginnings in 1997, ChillOut has grown to become Hepburn Shire's largest and longest-running festival, increasing Daylesford's population ten-fold during the week-long program. Proudly regional and proudly queer, ChillOut is a massive community celebration delivered 'country style', where everyone from the community pulls together to make it happen.
From the volunteer committee, who plan and manage the festival, to the event volunteers from the region and beyond (even some from the big smoke), to the artists, organisations and venues who present events, ChillOut is a truly people-powered festival.
The party kicks off on Thursday 8 March with Tickle Me Pink: The Legends at the gay owned and operated Glenlyon Estate. Hosted by Frock Hudson with drag legends Miss Candee, Rita La Coqueta and Sue Ridge, the opening event promises a delicious dinner, fabulously camp entertainment and modern pop handbag tunes from DJ Trudi.
From noon Friday, Bellinzona Grange at Hepburn Springs is the place to be for the Lavish Lunch – a fun-filled afternoon of exquisite wining and dining with funds raised being donated to the Daylesford State Emergency Services (SES) Unit.
Friday night belongs to disco queens and Kylie fans with the official launch event, the Out and Proud Disco being held at Daylesford Town Hall. DJ Dozza will be dishing up an all-night feast of 80s tunes with a special guest performance from the Australian Kylie show.
Along with the Daylesford Hotel, local businesses including Hepburn Hotel, The Perfect Drop and The Farmers Arms will fly the rainbow flag with pride, hosting substantial events across the weekend. Even the local pool will get into the act with a Pink Flamingo Pool Party on Saturday.
The gorgeous Daylesford Town Hall is a central hub of the town hosting events from disco to bush dancing for kids and adults. Saturday is Bush Dance day with kids scooting the day away at the Kids Bush Dance followed by the evening Bush Dance for big kids.
The community comes together on Sunday for the traditional ChillOut Pride Parade and ChillOut Carnival, with committed partygoers dancing the night away at Poof Doof.
And with Australia finally achieving marriage equality, ChillOut is offering one couple the opportunity to marry on the Main Stage at Carnival Day. Partnering with local celebrants and businesses the lucky couple will receive two nights accommodation, wedding photography and their own marquee to hold court for the day at ChillOut Carnival.
The Festival wraps up on Monday afternoon at the International Women's Day Dance with Citrus Sistas singing a selection from ABBA, k.d. lang, Motown, rock and roll and much, much more.
The 2018 ChillOut Festival runs 8 – 12 March. For more information, visit: www.chilloutfestival.com.au for details.
Image: Thousands line the street of Daylesford for the ChillOut Parade – photo by Rohan Shearn