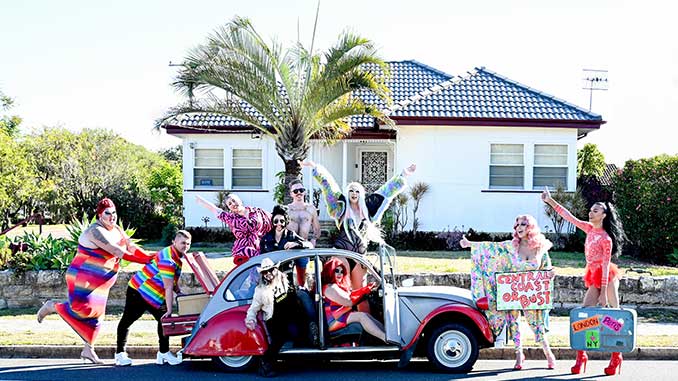 Central Coast NSW is set to fly its Rainbow Flag again with the much-anticipated Annual Coastal Twist LGBTIQA+ Arts and Culture Festival from 26 September to 2 October 2023.
As Sydney and Newcastle's closest regional neighbour, the festival has gone from strength to strength with Coastal Twist 2023 presenting for its third year and already enshrined as a unique & much loved "original quirky Australiana" vibrant and original regional experience that's not to be missed.
In what has become the Coast's sparkliest week of the year, this October long weekend will host 7 days & nights packed surprises, playful and profound fun from across the region, our state and our country.
The unique festival delivers an experience at the intersection of fashion, celebrity, music and art. Proudly supported through the NSW Government; Coastal Twist was selected as one of a handful of festivals that have demonstrated early success, attracted good audience numbers, and demonstrated exemplary local engagement and a strong programming.
"It's very difficult to gaze around at mountains and trees in every direction, 2 steps from the beach and feel completely unmoved, the skyline is simply magical, particularly when accented by the festival's entertainment, audiences, and art installations," said Festival Director Glitta Supernova.
"We invite everyone to visit, your next beach and bush staycation is only 75mins away from Sydney and across the Hunter and everyone is invited to pack up your glam bags and come join the seaside pleasures of Umina Beach, Woy Woy, Gosford and Ettalong Beach this Oct long weekend! "
"All ages, all abilities and all our venues are fully accessible with Auslan at key events including our Coastie Carnie Fair day."
Coastal Twist Festival is cooking up its own brand of Coastie Kitsch, this year with Multiple Central Coast hubs coming alive with free and ticketed events to suit all ages and abilities with Live Music, Film, Dance Parties, Cabaret, Youth & Senior Activations, Art Exhibition and even Bingo.
The shining jewel of the Festival, the Coastie Carnie Fair Day on Sunday 1 October featuring headliner live music and performance artists alongside locals with all day Entertainment, a Market with makers, local businesses, organisations, food & beverage, peaking with the now iconic Puparazzi Pooch Parade across the free, outdoor, family friendly event on the shores of Umina Beach.
"As the festival continues to grow, so does the programming and activations. This year we are presenting live music acts such as Kira Puru, Cry Club, Iya Yves and Jacey Fox and direct from RuPaul's Drag Race Down Under last year's winner, New Zealander Spanky Jackson and from this year's season Hollywould Star," saidGlitta Supernova.
"The list continues with Australia's favorite party starter DJ Charlie Villas, Queer Burlesque & Boylesque Icons Jazida & Danny Golding plus there will also be more local & national LGBTIQA+ Performing Artists & Musicians than you can point your magic wand at over this Oct long weekend!"
"The 2023 year's Festival theme "Inclusion means you" is a call for everyone across the Coast and beyond to join us in nurturing a culture of respect for a happier, healthier, and more welcoming Central Coast. In times as polarising as these, Inclusion Means You encapsulates the ethos that everyone deserves to be heard, valued, and welcomed with respect," said Glitta Supernova.
We always say it takes a village to make a village and we couldn't have done it without the support from across the board from local community, corporate, health & Government with support this year by NSW Government through Create NSW, Central Coast Council, ING, Woolworths, ACON, Diggers plus many more, all invested in creating a happier, healthier Central Coast.
---
Coastal Twist takes place on the NSW Central Coast from 26 September to 2 October 2023. For more information and full program, visit: www.coastaltwist.org.au for details.
Image: Coastal Twist Festival – Central Coast or Bust – photo by Lisa Haymes Photography