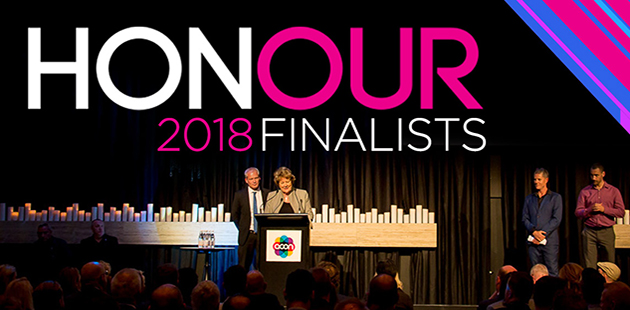 Demonstrating the strength and resilience of LGBTI communities, unsung heroes, community champions and long-standing supporters of LGBTI people lead the field of finalists of the 2018 Honour Awards.
First held in 2007, the Honour Awards is an annual event that celebrates outstanding service to, and achievements within, the LGBTI community in NSW and Australia. Now in its 12th year, the not-for-profit awards is also a gala fundraising event for LGBTI community initiatives delivered by ACON, NSW's leading HIV prevention, HIV support and LGBTI health organisation. All funds raised by the Honour Awards goes back into assisting the community through ACON's health programs and services.
A diverse and inspiring mix of 32 finalists have been selected from over 140 nominations received across nine categories covering the business, health, HIV, youth, community, entertainment, visual arts, media and cultural sectors. The winners will be presented with a range of gifts and prizes at a gala ceremony and cocktail party at the Ivy Ballroom in Sydney on Wednesday 3 October.
ACON CEO Nicolas Parkhill said the judges were overwhelmed by the calibre and variety of nominations. "Selecting the finalists was an extremely difficult process for the panel, because the achievements and contributions to our communities of all the nominees had each been noteworthy in their own way," said Mr Parkhill.
"However, the judges agreed that the finalists they selected exhibited a remarkable commitment to supporting the LGBTI community, often without fanfare, and truly deserve to be recognised for their efforts. The calibre of nominees for Community Hero and Community Organisation were particularly outstanding with judges spending a great deal of time in deliberation.
"I'd like to thank all the judges who were extremely diligent when selecting these finalists; it was certainly no easy task. I congratulate all the finalists and look forward to them and other members of our community coming together to celebrate their achievements at the Honour Awards ceremony and cocktail party at the Ivy in October."
This year's awards will be presented at a gala ceremony and cocktail party at The Ivy in Sydney on Wednesday 3 October 2018. Four finalists from each category will join a host of government, media, entertainment and community personalities for a fabulous night of fun and festivity. For more information, visit: www.honourawards.com.au for details.
Image: courtesy of ACON
---
2018 HONOUR AWARDS FINALISTS:
COMMUNITY HERO (Presented by ACON)
Sue Thompson: For over 30 years of advocating for the safety of the LGBTI community in NSW. Sue was instrumental in building bridges between NSW Police and LGBTI community by pioneering the Gay and Lesbian Liaison Officer (GLLO) program in the 1990s. In the years since, Sue has continued to advocate for victims and survivors of LGBTI hate crimes.
Peta Friend: For being a strong advocate for the visibility, rights and welfare of transgender people. Peta is the co-founder of Trans Sydney Pride, which provides support for transgender people and raises awareness of issues affecting the transgender community through events and online activities.
Robyn Kennedy: For her unwavering commitment to the LGBTI community spanning over four decades. Over the years, Robyn has advocated for LGBTI rights through various roles with groups such as CAMP, Gay Solidarity and Gay Task Force. As a 78er, Robyn has been a vital force in the development of First Mardi Gras Inc, a community not-for-profit association established to support the 78ers.
Shane Brown: For his passionate advocacy for LGBTIQ issues over many years, including his work as CEO of youth support organisation Weave, where he instigated a range of projects addressing issues such as Indigenous support, bullying, youth disengagement, alcohol and other drug use and LGBTIQ inclusion in his local community of Redfern.
YOUNG ACHIEVER AWARD (Presented by people2people)
Kamalika Dasgupta: For important advocacy for LGBTIQ women from cultural and linguistically diverse backgrounds through her non-profit organisation SheQu.
Matt Yeldham: For his leadership and contributions in helping establish Out for Australia as a leading national mentoring organisation for young LGBT people.
Joshua Goyne: For his success in the World Gay Rodeo Finals – becoming the youngest person to ever qualify – and his passionate advocacy for LGBTI people in rural and regional communities.
Bayvick Lawrence: For being an inspirational role model and spokesperson for LGBTIQ Pacific Islander youth through his work in fashion design in Fiji and Australia.
HIV HERO
Alison Kincaid: For 40 years of passionate advocacy and healthcare in support of people living with HIV. Alison has provided strong leadership in HIV and sexual health within the public health sector over the years, and is currently the clinical manager for many junior and senior nurses in regional areas across NSW.
AIDS Dementia and HIV Psychiatry Service (ADAHPS): For providing vital care, compassion and support over many years for people living with HIV experiencing cognitive impairment and dementia, and for assisting all people living with HIV they are working with through the National Disability Insurance Scheme process.
David Crawford: For three decades of providing service and care to people living with HIV, including a long-running role as a registered nurse at Ward 17 South at St Vincent's Hospital. Now at Positive Life NSW, David continues to work tirelessly to improve the health and wellbeing of people living with HIV in NSW.
Elizabeth Griggs: For decades of service and support in the HIV sector as a nurse, clinician, surveillance officer and public health administrator. Serving the community since the early 1980s, Elizabeth has worked in a variety of roles in support of people living with HIV including at Albion Street Centre, NSW Health and RPA Sexual Health.
COMMUNITY ORGANISATION (Presented by SBS)
Hay Mardi Gras: For delivering the inaugural Rainbow on the Plains festival, bringing together LGBTI communities and their allies in the western Riverina region of south western NSW, and showcasing LGBTI pride and diversity in regional NSW.
The Equality Campaign: Recognising the joint effort of Australian Marriage Equality and Australians for Equality in leading the national push that led to marriage equality in Australia.
Trans Sydney Pride: For providing support, advocacy and visibility for transgender and non-binary people, and for raising awareness and engagement on key issues through online activities and community events.
Human Rights Law Centre: For delivering positive legal change for Australia's LGBTI communities in various areas such as equal marriage rights, the expungement of historical homosexual convictions and LGBTI parenting reforms.
HEALTH & WELLBEING (Presented by GLYDE Health)
HIV/AIDS Legal Centre: For providing legal aid and support to the LGBTI community over HIV-related matters, and tackling HIV stigma and discrimination by providing specialist legal services to vulnerable people living with HIV and those most at risk.
Penny Gulliver: For decades of tireless advocacy for the health and safety of LGBTI people. For over 30 years, Penny has been empowering LGBTI people through her self-defence workshops, and promotes LGBTI health and wellbeing through various community organisations and initiatives.
Dr Allison Bielawski: For over 20 years of providing healthcare to the LGBTI community in her role as a local GP. Allison is also being recognised for her strong advocacy for LGBTI health through her involvement with various health advisory boards and committees.
Nurul Tajularus: For her passionate work in helping establish and develop Sydney Queer Muslims, which assists LGBTIQ Muslims with a variety of support services, social groups, counselling, workshops and referral pathways.
ARTS & ENTERTAINMENT AWARD (Presented by Sydney Gay and Lesbian Mardi Gras)
Adrian Wills: For his extensive body of work in filmmaking across various genres spanning short films, TV series and feature documentaries, which includes the award-winning feature documentary Black Divaz.
Maeve Marsden: For establishing the successful storytelling/spoken word event series, Queerstories – which brings together people from all sections of the LGBTIQA community, and provides an important platform for performance and self-expression, both in regional and metropolitan centres.
Riot: For the captivating TV movie on the ABC, which explored the origins of the first Mardi Gras march, highlighting the legacy of the 78ers, and bringing to mainstream Australia the cultural and historical significance of the Sydney Gay and Lesbian Mardi Gras Parade.
Mark Trevorrow: For delivering over 30 years of entertainment as 'Bob Downe' – one of Australia's most iconic showbiz characters. Throughout this time, Mark/Bob has lent his name to various causes, giving generously to countless charities and organisations.
MEDIA AWARD (Presented by Dowson Turco Lawyers)
Benedict Brook: For his riveting story on a trio of drag queens who came to the aid of a gay man being assaulted in inner Sydney. The article, published in News.com.au, helped raise the issue of anti-LGBTI violence and gained international attention. It is just one of Benedict's many reports that put LGBTI issues front and centre on the popular online news outlet.
Dr Shirleene Robinson: For her extensive body of work in the media that has drawn attention to LGBTIQ issues. One of Australia's leading LGBTIQ historians, Shirleene has written a wide range of piece exploring topics such as the gay panic defence, marriage equality, the HIV/AIDS epidemic and LGBTI personnel in the military. Shirleene has also published a range of books, having co-authored several titles that explores LGBTI history.
Simon Hunt: For his prolific and tenacious advocacy for the LGBTI community on social media, either in his personal capacity or as his alter-ego, 'Pauline Pantsdown'. Simon's online activism, especially during the same-sex marriage postal survey, was a source of humour, comfort and inspiration for many in the community, even as he stared down prejudice and bigotry.
Jason Om: For his powerful two-part story on his conservative Cambodian father changing his mind on same-sex marriage. The widely-shared reports – published on ABC News Online and broadcasted on 7.30– underscored the intergenerational and cultural challenges many culturally and linguistically diverse families faced in the marriage equality debate.
BUSINESS AWARD (Presented by Sydney Gay and Lesbian Business Association)
Belloccio Restaurant: For creating a popular gay-owned and operated diner on Oxford Street. Since its establishment in 2013, Belloccio Restaurant has supported a broad range of LGBTI charities, and it has also showcased many local performers, providing a platform for established artists and nurturing emerging talent.
Sax Leather: For its long-running retailing business catering to Sydney's leather and fetish community, which has been operating for nearly two decades. Over the years, the Oxford Street store has supported has broad range of LGBTI causes and organisations through sponsorships and direct donations.
Jonny Bastin: For establishing the successful Bear Bar, a space that welcomes all members of the community. Starting out as a 'pop-up' initiative four years ago to now a permanent fixture on Oxford Street, Bear Bar has become a popular social destination. Through its various events, Bear Bar has raised funds for local charities and community organisations.
357 Sydney City Steam: For operating a welcoming and safe space for over 15 years for gay men to meet and socialise. In that time, 357 Sydney City Steam has provided vital support to a range of HIV prevention and community health initiatives and delivered assistance to various charities.