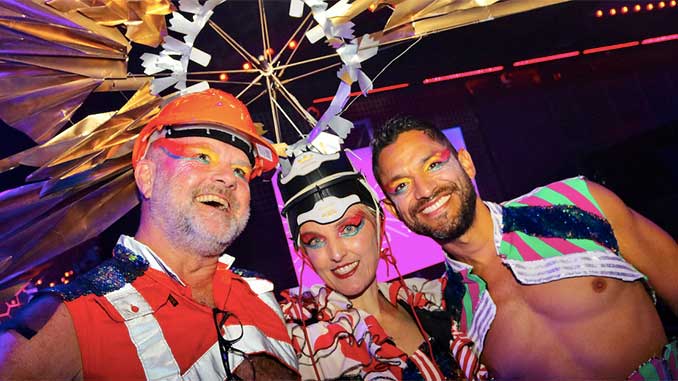 The 44th Sydney Gay and Lesbian Mardi Gras Festival was one for the history books. This year Mardi Gras brought back some of the community's most-loved events including Fair Day, our fan-favourite Pool Parties, Queer Art After Hours, Laugh Out Proud, Sissy Ball, Laneway, and of course, the Parade.
Putting on one of the world's biggest LGBTQIA+ festivals is no simple task, and Mardi Gras couldn't do it without the passion, dedication and talent of our wonderful community.
At this year's Sydney Gay and Lesbian Mardi Gras Community Awards we celebrated and recognised members of our community that went above and beyond to make the 2022 Season a shining success.
2022 Mardi Gras Community Awards Winners
FAIR DAY:
BEST STALL
Winner: Aspect – Autism Spectrum Australia
BEST SPORTS STALL
Winner: Sydney Front Runners
BEST COMMUNITY STALL
Winner: Mature Aged Gays
FAIR DAY STALL OF THE YEAR
Winner: Fetish Australia
SPECIAL COMMENDATION
Hawaii Tourism Oceana
Nungala Creative
NSW Nurses and Midwives Association
Life Savers with Pride
Jarin Street
Inner West Roller Derby League
PARADE:
BEST INDIVIDUAL OR SMALL GROUP
Winner: Princesses of Mardi Gras 2022
BEST CHOREOGRAPHY
Winner: Newtown Breakaways Football Club
BEST SATIRICAL ENTRY
Winner: Rainbow Rebellion
RON MUNCASTER AWARD FOR BEST COSTUME
Winner: You Are Unique
BEST FLOAT DESIGN
Winner: Free Gay and Happy
SPIRIT OF 1978*
Winner: Fruits from Brazil
RON AUSTIN AWARD FOR MOST FABULOUS PARADE ENTRY
Winner: FLAGCOM and Friends
SPECIAL COMMENDATION
GlLADD
NSW Nurses and Midwives Association
The Librarians
Gymnastics NSW
Emerald City Kickball
VOLUNTEERS:
AWARD FOR EXCELLENCE IN INNOVATION
Winners: Konstantinos Ziotas and Richard Hill
Special Commendation: Agiba Andrea and Dylan Third
AWARD FOR EXCELLENCE IN SERVICE
Winner: Andrew Endycott
Special Commendation: Dani McLennan, Gordon Parker, Trill Liddle and Ty Owen
AWARD FOR EXCELLENCE IN LEADERSHIP
Winners: Austin Berscheid and Kate Gallon
Special Commendations: Leonard Watson, Matthew Flinn and Simon Liddle
AWARD FOR EXCELLENCE IN TEAMWORK
Winners: Adrian Hinder, Aiden O'Dea, Avalon Carnall, Damon Hartley, Fiona Carter James Taylor, Joel McKinnon, Karla Burrows, Lachlan Dewsbury, Parker Howard, Peter Cowan, Ruby Hudson, Simon Poole, Tara Pollock, William Klaasen and Zaac Totonjian
BEST NEWCOMER
Winner: Celeste McNamara
Special Commendation: Ahmed Dulaimi, Emma Corbridge, Laura Koefoed and Phil Killsha
ICARE AWARD
Winner: Jade McKinnon
Special Commendation: Acacia-belle McCormack, Kyle Schembri, Mihailo Bajceta and Tara Pollock
VOLUNTEER OF THE YEAR
Winners: Brett Williams and Reo Lynch
LIFETIME ACHIEVEMENT
Winners: Frank Iannilli and Paul Truscott
SPECIAL ACKNOWLEDGEMENT: IN MEMORIAM
Donna-Maree Bates
SPECIAL ACKNOWLEDGEMENT
Virginia Ferris
---
For more information about the 2023 Sydney Gay and Lesbian Mardi Gras, visit: www.mardigras.org.au for details.
Image: courtesy of Matt Akersten
Note (*): Spirit of 1978 is a new award that embodies the spirit of the march down Oxford Street in 1978. The recipient of the award is selected by the 78ers Committee which is awarded to a Parade entry they feel connects directly to the events of June 1978.