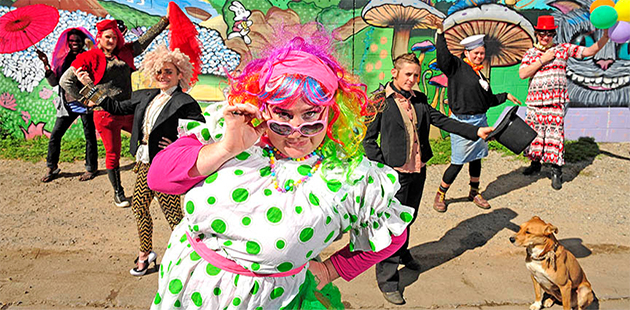 Recognised as the world's most remote Pride celebration, the Alice Springs Pride Carnivale on Saturday 25 October is an opportunity for the Central Australian community to come together for a Mardi Gras style event in the heart of Australia.
A large population of LGBTI identified people call Alice Springs and Central Australia home, and the carnivale aims to bring the fun of pride festivals right to their doorstep, whilst at the same time, challenging all forms of discrimination and celebrating diversity across the region.
The Carnivale will take place on the banks of the Todd River at Snow Kenna Park between 11.00am and 3.00pm. It will feature a main stage, roving performers, kids space, fashion parade, camp dog show, market stalls, workshop and discussion space, art installations, and much more.
Performers throughout the day include Crystal Love, Lisa Pelligrino, Constantina Bush, Destiny Haz Arrived, Foxxy Empire, Justin Fenwick, Glitter Supanova, Edi Donald & The Transients, Latin Satin, Warren H Williams, and the Cook Island Dancers, just to name a few.
As the sun sets, enjoy a cocktail or two at Higgins Hall and settle in for a selection of short films including Clan, Into the Streets, Between Us and Kiss Me, Deadly. Then dance the night away at the official After-Party featuring a selection of DJ's and wonderful performances.
For more information, visit: www.alicespringspridecarnivale.com for details.
Image: courtesy of Alice Springs Pride Carnivale