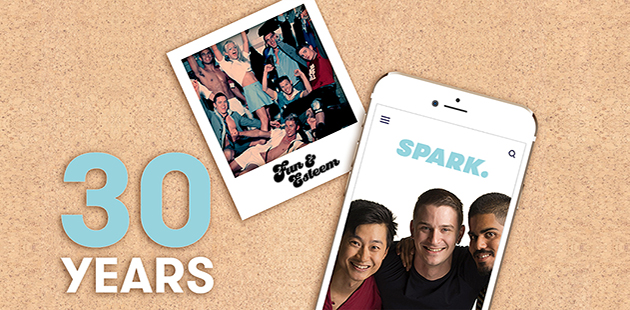 One of Australia's longest running programs providing social support and education on HIV and sexual health to young gay men will mark its 30th anniversary in Sydney next month.
ACON established Fun & Esteem in 1988, in response to the AIDS epidemic to engage young gay men, aged 18 to 26, on issues surrounding HIV and sexual health. Since that time, the project has delivered hundreds of workshops on HIV prevention, risk reduction and safe sex.
The project was renamed SPARK in 2015, and continues to deliver important health promotion messages and activities. Over the course of three decades, it is estimated that over 10,000 people have attended Fun & Esteem and SPARK workshops.
"The need for HIV and sexual health education for gay men during the 1980s and the 1990s was paramount and throughout its early history, the information and support provided by Fun & Esteem was literally lifesaving," said ACON President Dr Justin Koonin.
"There were limited opportunities for young gay men in the early days, and Fun & Esteem workshops provided an open, safe and inclusive forum to connect, socialise and, more importantly, learn about HIV prevention and sexual health. Today, ACON is proud to see the project still going strong with SPARK."
Key to the project's longevity is its peer education approach, whereby health messaging is delivered by peers. Attendees learn about HIV and sexual health in safe, confidential and non-judgmental workshops, led by trained peer facilitators. The project also helps with issues around coming out, and assists with facilitating new connections, friendships and support networks.
"Peer education is essential in effective HIV prevention education," said Dr Koonin. "We know that when health information is delivered by peers, it is more readily accepted by community members. Many of the volunteer facilitators of Fun & Esteem and SPARK were themselves workshop participants."
"In fact, one of the earliest workshop facilitators and ACON Young Gay Men Project officers, was the late Timothy Conigrave, author of the Australian classic Holding the Man."
Brent Mackie is also one of the project's first officers, leading Fun & Esteem from 1989 to 1992. He now works as ACON's Associate Director of Policy, Strategy and Research.
"The project was so important, particularly in the early years of the AIDS epidemic. It provided an important space for young gay men to support and learn from each other," said Mackie. "Without Fun & Esteem, a generation of young gay men would not have had the opportunity to explore complex topics around HIV prevention and sexual health."
As times have changed, so too has the project, adapting to meet the evolving needs of young gay men, changing demographics in LGBTI communities, and new communication trends.
"More recently, the project has utilised digital technologies to engage communities online and in regional areas, and to further amplify health promotion messages," said Mackie. "It is also addressing the specific needs of culturally and linguistically diverse communities by developing tailored workshops for Asian gay men and men from Arabic or Middle Eastern backgrounds."
To mark the 30th anniversary, ACON is hosting a celebration on Wednesday 7 November at The Beresford in Surry Hills. Previous participants and facilitators, their partners and friends, and community supporters, are invited to attend.
"We thank everyone in our communities that has attended, facilitated or supported a Fun & Esteem or SPARK workshop over the years," said Dr Koonin. "Their passion and dedication for the project inspires us to continue our efforts in supporting and improving the health and wellbeing of people in our communities, including young gay men."
For more information about the Young Gay Men's Project and SPARK, visit: www.acon.org.au for details.
Image: courtesy of ACON