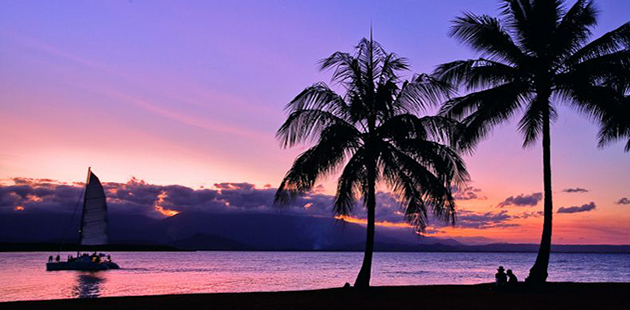 Tropical North Queensland hotspot, Port Douglas, is getting ready to celebrate its very first LGBTQI Festival in February 2020. The inaugural Port Douglas Hot & Steamy Festival has been scheduled for 14 – 17 February 2020 as a precursor to the Sydney Gay and Lesbian Mardi Gras.
Directors Nathan Clarke and Jason Penrose decided to create the festival after identifying a gap in the calendar after the closing of the well-known and attended Cairns Tropical Pride in 2018, and to highlight the beauty of the region during a quieter period for tourism.
"February in the tropics is hot, humid and steamy, hence the title of the festival," says Nathan Clarke, Director of the Port Douglas Hot & Steamy Festival. However, it is still a fantastic time to visit – there's fewer crowds, balmy evenings and everything is lush and green."
"There's a calendar of events that will showcase the best of Port Douglas and its surrounds, including dance parties in local favourite spots, a pool party, special entertainment guests and, of course, the opportunity to experience two incredible World Heritage Listed areas, the Great Barrier Reef and the Daintree Rainforest".
Scheduled events include a welcome lunch at the awarded Salsa Bar & Grill, an opening party on the iconic Sugar Wharf overlooking the Coral Sea, an outdoor dance party at the popular Port Douglas Yacht Club and a closing party with special guests.
Cr Michael Kerr from Douglas Shire Council who is heavily involved in the arts scene and the LGBTQI community said the event was a chance to celebrate lifestyles loud and proud. "As a long-standing community member, I am excited to support this event and hope to see it a permanent fixture in the event calendar," said Cr Kerr.
"The region has always been popular pre- and post-Sydney Mardi Gras, and an event like this will only highlight the region to a wide-reaching audience, drawing people to the region in the off-peak season. Pride events are a big part of the gay community and Tropical North Queensland represents very well."
The inaugural Port Douglas Hot & Steamy Festival runs 14 – 17 February 2020. Tickets for individual events go on sale in September. For more information, visit: www.pdhotsteamy.com.au for details.
Image: A Port Douglas Sunset at ANZAC Park (sourced)