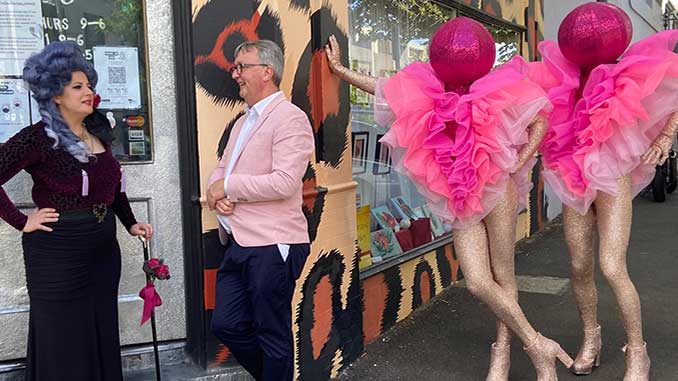 Victorians can celebrate our state's LGBTIQ+ communities through dozens of events across regional Victoria as part of Melbourne Pride.
Melbourne Pride is a landmark LGBTIQ+ event for Victoria, featuring a series of activities in our regional communities over the summer and a one-day street party in Melbourne on 13 February 2022.
Marking more than 40 years since the decriminalisation of sex between men in Victoria, this event will help heal historic wounds by giving all Victorians the chance to show their pride in and support for LGBTIQ+ communities.
"Melbourne Pride is a celebration of our LGBTIQ+ communities and everything they contribute to our state," said Minister Foley.
Melbourne Pride's regional activities are now underway, with community events, art exhibitions, theatre shows, podcasts, documentaries and a range of other initiatives across regional Victoria.
Proud Nguri-Illum Wurrung / Dja Dja Wurrung / Wurundjeri / Wamba Wemba artist Vince Partington has created sculptural work PIRNBIAL (meaning rainbow in Woiwurrung language), which examines the connection between traditional culture and identity based on Vince's own experiences. It is showing at Healesville's Hearth Gallery from now until late January and on 13 February 2022.
A list of regional Melbourne Pride activities will be kept updated at www.midsumma.org.au with events already scheduled for the Macedon Ranges, Ballarat, Geelong, Morwell and Wangaratta.
"It's so important that our diverse LGBTIQ+ communities right across rural and regional Victoria have the opportunity to tell their stories and histories, and that we all have the opportunity to celebrate their identities through events such as these," said Commissioner for LGBTIQ+ Communities Todd Fernando.
Leading LGBTIQ+ arts and cultural organisation Midsumma is delivering Melbourne Pride on behalf of the Victorian Government. The Government has delivered more than $1.9 million to support Melbourne Pride, as part of our broader work to achieve equality for LGBTIQ+ Victorians.
---
Melbourne Pride will take place around the Gertrude and Smith Streets Precinct on Sunday 13 February 2022. For more information, visit: www.midsumma.org.au for details.
Image: Hannah Cuthbertson, Minister Martin Foley and The Huxleys at Rose Chongs Costumes – courtesy of Midsumma