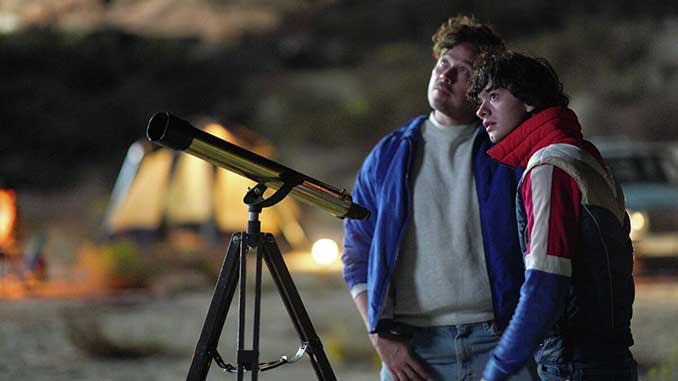 This November, Australia plays host to an exciting new film festival. Every Colour In Between (ECIB) is dedicated to celebrating diverse voices in LGBTQIA+ cinema and giving Australian cinema-goers access to extraordinary new films from across the globe.
The festival will be available simultaneously across nine Palace Cinema locations in Sydney, Melbourne, Brisbane, Perth, Adelaide, Byron Bay and Canberra from 23 – 26 November 2023.
ECIB will feature the biggest festival hits from the past year, made by the world's most exciting new filmmakers in LGBTQIA+ cinema. The festival's line-up has been selected from top tier festivals such as Sundance, Cannes, Toronto, Slamdance, BFI London Film Festival, Locarno and New York Film Festival.
The program features star-studded festival hits including ROTTING IN THE SUN, directed by Sebastián Silva and starring Jordan Firstman, CHESTNUT starring Stranger Things' Natalia Dyer, Mexican young adult film ARISTOTLE AND DANTE DISCOVER THE SECRETS OF THE UNIVERSE and the millennial comedy, CORA BORA, starring Hacks' breakout star Megan Stalter.
The program also features the much anticipated French film, A PRINCE, direct from its Cannes premiere where it was described as "surely one of the most kookily unclassifiable films ever to have screened in (Cannes) Director's Fortnight…" (Lee Marshall, Screen Daily).
Just as impactful as the features, the ECIB program also includes two eclectic short film collections containing festival award-winners from the United States, Greece, Nigeria, Germany and Colombia and France.
"We are thrilled to present Every Colour In Between, a festival showcasing diverse narratives and unique stories from around the world with our partners at Palace Cinemas," said Danny Lachevre, CEO of FanForce Films – the company behind the festival.
"This festival is a celebration of the best and most unique LGBTQIA+ stories and storytellers from around the world. The majority have all featured in the world's most prestigious film festivals like Cannes, Sundance and Toronto."
In addition to the impressive line-up, unique to ECIB is the national participation of seven cities and nine screening locations, offering film enthusiasts a chance to immerse themselves in this extraordinary celebration of global LGBTQIA+ cinema.
"Palace Cinemas is honoured to host the inaugural Every Colour In Between Film Festival, spotlighting fresh and compelling LGBTQIA+ narratives. We are delighted to showcase these diverse, thought-provoking stories, and bring exceptional films to Australian audiences."
---
The Every Colour In Between Film Festival takes place at Palace Cinema locations in Sydney, Melbourne, Brisbane, Perth, Adelaide, Byron Bay and Canberra from 23 – 26 November 2023. For more information and full program, visit: www.films.fan-force.com for details. Checkout the trailer here!
Image: Aristotle and Dante Discover the Secrets of the Universe (film still)