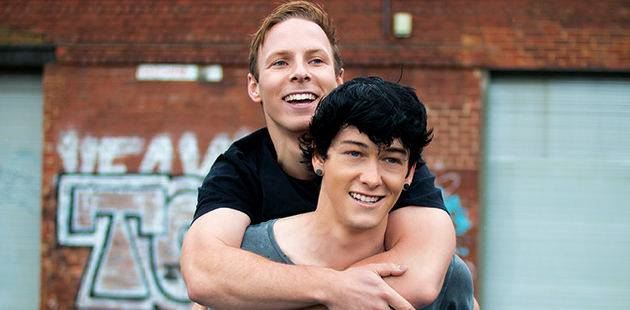 Falling in love at fifteen is as achingly complicated as it was twenty-five years ago, as North by South Theatre Company presents Beautiful Thing by Jonathan Harvey at Chapel Off Chapel from 7 June 2018.
Doc Martens, double denim and high ponytails-but this isn't Melbourne in 2018. It's South East London in '93; where being gay and secretly in love with another boy is about as acceptable as admitting you voted for Thatcher.
For Jamie, that boy is his sporty and well-liked next-door neighbour Ste. When a family argument leaves Ste without a safe place to stay, the two boys begin to share a room and a connection. Unapologetically blue collar and gorgeously unrefined, Beautiful Thing encapsulates the wonder of first love with the fear of acceptance from ourselves and our families… all with the help of music from Mama Cass.
Marking the 25th Anniversary since the play first hit the stage, Beautiful Thing is directed by Cal Robinson-Taylor and features Sean Minahan, James Malcher, Melina Wylie, Ruby Wall, and Raphael Lecat – which is sure to move audiences with its heartbreaking honesty and unexpected warmth.
Jonathan Harvey is the multi award winning writer of the play and film Beautiful Thing, the Bafta nominated sitcom Gimme Gimme Gimme and Beautiful People (Best Comedy: Banff TV Festival). He is currently on the writing teams for both Coronation Street and Shameless. His other TV work includes Rev (Bafta, Best Sitcom), At Home With The Braithwaites, Lilies, The Catherine Tate Show and Murder Most Horrid.
He has written 20 stage plays including Corrie!, Canary, Hushabye Mountain, Babies, Boom Bang A Bang and Rupert Street Lonely Hearts Club. He also wrote the 2001 stage musical Closer To Heaven with the Pet Shop Boys. His theatre work has won him an Evening Standard Award, two Manchester Evening News Awards, the George Devine Award and the John Whiting Award.
Beautiful Thing
Chapel Off Chapel, 12 Little Chapel Street, Prahran
Season: 7 – 10 June 2018 (preview: 6 June)
Information and Bookings: www.chapeloffchapel.com.au
Image: James Malcher and Sean Minahan star in Beautiful Thing – photo by Ovation Creative