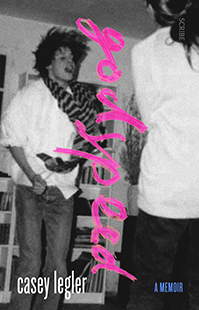 At fifteen, Casey Legler is already one of the fastest swimmers in the world. She is also an alcoholic, isolated from her family, and incapable of forming lasting connections with those around her.
Driven to compete at the highest levels, sent far away from home to train with the best coaches and teams, she finds herself increasingly alone and alienated, living a life of cheap hotels and chlorine-worn skin, anonymous sexual encounters and escalating drug use.
Even at what should be a moment of triumph — competing at age nineteen in the 1996 Olympics — she is an outsider looking in, procuring drugs for Olympians she hardly knows, and losing her race after setting a new world record in the qualifying heats.
After submitting to years of numbing training in France and the United States, Casey can see no way out of the sinister loneliness that has swelled and festered inside her.
Yet wondrously, when it is almost too late, she discovers a small light within herself, and senses a point of calm within the whirlwind of her life. In searing, evocative, visceral prose, Casey gives language to loneliness in this startling story of survival, defiance, and of the embers that still burn when everything else in us goes dark.
"Reading Godspeed is an experience as invigorating, beautiful and punishing as standing under a waterfall. Legler is an unflinching chronicler of light and darkness, loneliness and embodiment, and the deep enchantments of sensation." – Helen Macdonald (Author of H is for Hawk)
---
Casey Legler is an artist, restaurateur, model, and former Olympic swimmer. Born in France to expatriate American parents, Casey grew up in Provence, and went on to swim for France in the 1996 Summer Olympics in Atlanta.
The first woman signed to Ford Models to exclusively model men's clothes, Casey has been featured in Vogue, Le Monde, and Time. They are a member of Phi Beta Kappa, graduated cum laude from Smith College, and currently divides their time between New York and Sydney with their wife, Siri May.
---
Godspeed is published by Scribe Publications and available from all leading book retailers including Booktopia.
Image: Godspeed by Casey Legler