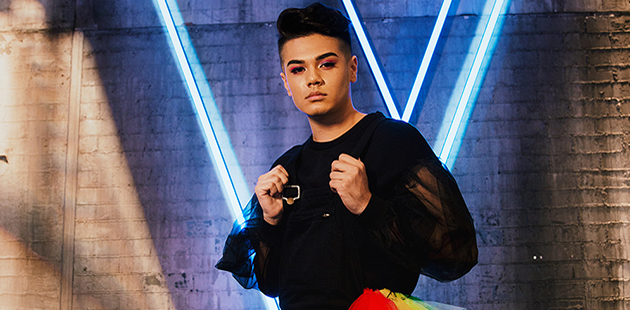 Prodigious young performer and third place winner of The Voice 2018, Sheldon Riley will feature at this year's Midwinta Gala 2018 – Midsumma Festival's annual glamorous fundraiser at the Melbourne Town Hall on Saturday 4 August.
Riley came to the voice at the age of only 19, under the guiding genius of Boy George.  He started his creative journey when he was just six years old, cutting up fabric and everyday household items to make costumes while singing at the top of his lungs. By the age of ten he had written his first original songs on the piano his father bought him.
But Riley had a dark history of bullying and depression as a queer teenager in Queensland until his worst tormentor came out to him and ultimately thanked him for staying strong. "I just thought if I can inspire the person who shut me down for so long then my power is endless in this," he said. Riley is now a proud anti-bullying advocate for the LGBTQIA+ communities.
Riley sang the Culture Club classic Do You Really Want To Hurt Me for his The Voice 'blinds' audition – and had all four judges chairs turn around amidst an audience standing ovation. However it was his cover of Lana Del Rey's hauntingly exquisite song, Young and Beautiful, which captured public hearts, winning him third place.
Also performing in the splendid surrounds of Melbourne Town Hall are riotously hyper-visual queer favourites, The Huxleys. Will and Garrett Huxley's work reflects their iridescent world, full of arresting shapes, lurid colour, extreme theatrics and an ethos of glamorous androgynous abandon. And back by popular demand, multi-award winner Casey Donovan returns to headline this most glamorous queer event of the year.
With the theme IGNITE and a dress code of black tie/fabulous, guests are encouraged to be as glamorously inspired in their attire as the performers! Attendees in previous years will be pleased to know there will be more room than ever on the dance floor, and DJ Tanzer will be captain of the decks.
With effervescent host, Gretel Killeen, also back by popular demand as emcee, expect the unexpected (including circus!) at this wonderful night of fine wine and dining. VIP ticket holders will have the opportunity to attend an exclusive pre-dinner function hosted by Midsumma Chair John Caldwell, entertained by jazz songstress Kimba Griffith, before heading into the glorious setting of the Main Hall for the signature event.
With a silent auction and raffle prizes on the night, all funds raised at this prestigious event go directly towards the support of artists and culture-makers within Victoria's favourite LGBTQIA+ celebration, Midsumma Festival.
Midwinta Gala 2018
Melbourne Town Hall, Swanston Street, Melbourne
Event: Saturday 4 August 2018 – 7.00pm to midnight
Information and Bookings: www.midsumma.org.au
Image: Sheldon Riley to perform at the Midwinta Gala 2018 (supplied)