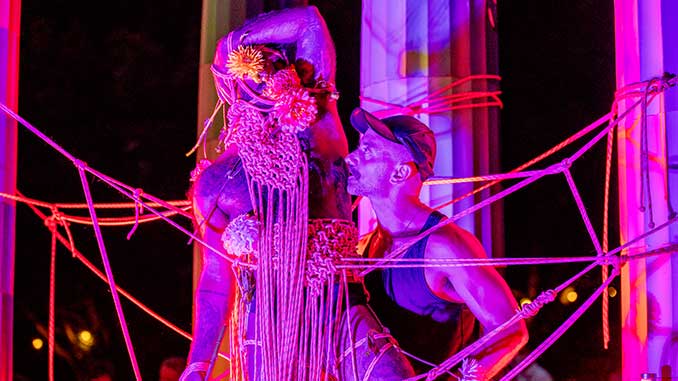 Carriageworks, one of Australia's most significant contemporary multi-arts organisations, has announced further details of its upcoming Carriageworks Nights program this August.
The artist-led series of events, Softcore, Consent and Feast, invites audiences to gather after dark for a dynamic program spanning live performance, music, film and food.
Softcore:
On Thursday 17 August, video artist and curator EO Gill presents Softcore, transforming the Carriageworks' Public Space into a cinema, screening queer Australian short experimental works from the 1980s until now, centred on pleasure and sexuality.
Taking inspiration from pioneering filmmakers like Stephen Cummins, who paved the way for queer video art practices, the program includes works by Cummins himself, alongside Archie Barry, EO Gill, Megan Holloway and Jo King, Joe Pol, Hannah Brontë, Samia Sayed and Tarik Ahlip. Full program will be announced end of July.
Consent:
On Thursday 24 August, artists, BDSM practitioners and musicians come together for Consent, presented alongside resident company Force Majeures' world premiere season of performance piece idk.
Exploring multiple dimensions of consent, the line-up includes performances by Sidney McMahon, Mistress Tokyo, Demon Derriere, Luke George and WeiZen Ho, with live music by Sydney-based hip hop and R&B artist BVT and electronic music group Haiku Hands.
For Consent, body positive performance artist Demon Derriere invites the audience to reclaim control by sharing their own nudes. Accepting submissions via Instagram the images are then projected on the walls of Carriageworks.
Performance artist and ropeworker Luke George presents a performative installation that sees the artist suspend a Ficus Elastica plant in rope bondage and then tends to the plant throughout the evening, exploring queer social choreographies and the queering of public and private spaces.
Performance artist WeiZen Ho invites the audience into her space where she will wipe them down and whip their bodies with her hair. During the night, Force Majeure also presents a panel discussion titled Consent in Conversation which is inspired by Artistic Director and CEO Danielle Micich's work as an Intimacy Director for stage and screen.
The panel coincides with the company's upcoming premiere idk, which examines the nuances of navigating the multiple dimensions of consent that we encounter throughout our lifetimes. Hosted by Elle Evangelista with panellists Heather Mitchell AM, Danielle Micich and Kelly Dezart-Smith, the panel unpacks navigating intimacy in a professional creative setting.
Feast:
On Friday 25 August, artist collective The Bushy Lemons comprised of Noica Omero, Samia Sayed and Salote Tawale, in collaboration with Bloodwood Head Chef Claire Van Vuuren, present Feast. Ahead of Tawale's major solo exhibition at Carriageworks in November, Feast invites 200 people to gather for a free celebratory BBQ dinner in Track 3 at Carriageworks, with tickets allocated by ballot. The night will end with dancing, featuring DJ Del Lumanta.
---
For more information about Carriageworks Nights, visit: www.carriageworks.com.au for details.
Image: DEVOTIONS by Luke George – photo by Tim Carrafa | courtesy of the National Gallery of Victoria