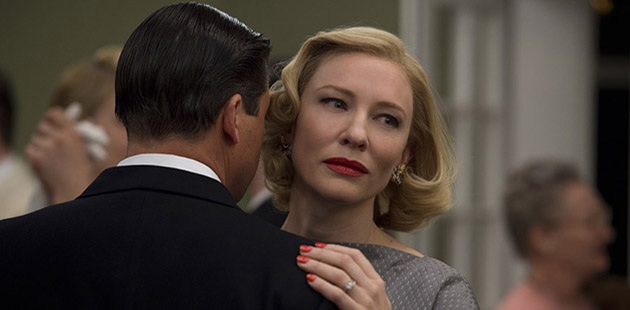 Set in 1950s New York, two women from very different backgrounds find themselves in the throes of love in CAROL. As conventional norms of the time challenge their undeniable attraction, an honest story emerges to reveal the resilience of the heart in the face of change.
A young woman in her 20s, Therese Belivet (Rooney Mara), is a clerk working in a Manhattan department store and dreaming of a more fulfilling life when she meets Carol (Cate Blanchett), an alluring woman trapped in a loveless, convenient marriage. As an immediate connection sparks between them, the innocence of their first encounter dims and their connection deepens.
While Carol breaks free from the confines of marriage, her husband (Kyle Chandler) threatens her competence as a mother when Carol's involvement with Therese and close relationship with her best friend Abby (Sarah Paulson) comes to light. As Carol leaves the comfort of home to travel with Therese, an internal journey of self- discovery coincides with her new sense of space.
Directed by Todd Haynes (I'm Not There, Far From Heaven, Velvet Goldmine) and written by Phyllis Nagy, CAROL beautifully speaks to the transforming nature of characters within the road movie genre. In an adaptation of Patricia Highsmith's seminal The Price of Salt, the novel was initially released under the alias author of Claire Morgan – one of 40 pseudonyms invented by Highsmith throughout her career – due to its homosexual subject matter.
CAROL vividly depicts the transitional period of the 1950s following the end of World War II. America is marked by feelings of both paranoia and optimism. As the post-war years ushered in many voices of change, 28-year-old crime author Patricia Highsmith wrote her second novel, The Price of Salt – about an unlikely attraction and love affair between two women living in New York City.
Published in 1952, the sexual candor explored in Highsmith's words made the book one of the seminal pieces of literature to come out of the era. To capture Highsmith's 1950s New York, CAROL was shot in Cincinnati, OHIO over the course of 35 days. The pre-war buildings and apartments in Cincinnati mirrored New York in the 1950s and created a realistic time and place for the story to be recreated.
With moving performances from a cast including Cate Blanchett, Rooney Mara, Sarah Paulson, Kyle Chandler, Jake Lacy and Cory Michael Smith – CAROL reminds audiences that desire is often expressed in the absence of personal joy.
Distributed in Australia by Transmission Films, CAROL opens in cinemas nationally on 14 January 2016.
Image: Kyle Chandler and Cate Blanchett star in CAROL (supplied)