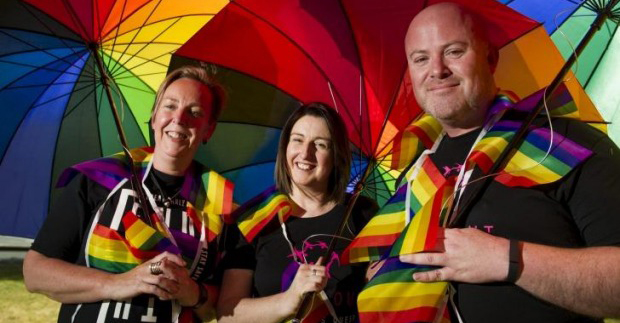 Held annually since 1999, the SpringOUT Festival is Canberra's annual Queer cultural festival held each November, and is a celebration of the vibrancy of the Lesbian, Gay, Bisexual, Transgender and Intersex communities in the nation's capital.
Showcasing more than 40 events in its sixteenth year, this year's program promises the best of the ACT's queer culture with the theme ON. From signature events Fairday and Bushdance, there are sporting activities, dance parties, theatre and visual arts, and opportunities for plenty of community engagement. Australian Pride Network takes a look at a few events worth checking out:
SpringOUT Fair Day
Saturday 31 October: 1.00pm – 6.00pm
Presented by the Aids Action Council, Fair Day has moved to the vibrant and exciting new Westside Acton Park, located on the western side of Commonwealth Avenue on the edge of Lake Burley Griffin. Celebrating Canberra's diverse LGBTIQ community you can expect a fabulous day of markets; gourmet food; businesses, social groups and advocacy stalls; music & drag; kids entertainment and a raft of fun activities. Plus as always the popular pet parade, which gives you the chance to show off your spoilt pooche and win some great prizes.
Fair Day Rooftop After Party
Saturday 31 October: 6.00pm – to late
Join SpringOUT for an exhilarating rooftop after party, it will be like no other you've ever experienced in Canberra. You can chill out by the bar or dance the night away with world renowned DJ's Sveta — one of Sydney's fiercest, she plays, Mardi Gras and clubs all around the world. Expect a night filled with live music, fashion parades, drag shows and much more. It's going to be a huge event. Tickets are limited so grab yours fast!
Canberra Gay and Lesbian Qwire / In Full Swing
Friday 6 November: 5.30pm
The Canberra Gay and Lesbian Qwire and big band In Full Swing present a special SpringOUT incarnation of their recent collaboration as part of Tuggeranong Arts Centre's monthly after-work jazz series. Come and enjoy a drink and an intimate session of jazz from a selection of the band and the Qwire as they perform amid the picturesque lakeside views afforded from the TAC café.
Bushdance
Saturday 14 November: 7.30pm – 1.00am
It's a fun night of dancing with people of all flavours. There is a bar, a BBQ and a live band to lead you through those dances that you might remember from primary school – like Strip the Willow, The Waves of Bondi, those crazy polkas and some more genteel promenades. By the end of the night you'll have danced with everyone, caught up with old friends and have made some new ones. It's a night of singlets, jeans, twirling dresses, chaps, check shirts, rhinestones, akubras, hats and of course, boots.
Sappho in 9 Fragments
Thursday 19 – Saturday 21 November
This extraordinary one-woman play is an homage to Sappho, the ancient Greek lesbian love poet whose work – and legacy – has echoed through the centuries. Directed by Emma Valente, co-director of The Rabble, one of Australia's leading avantgarde theatre companies, performed by Mary Helen Sassman and presented in a classically inspired pop-up outdoor theatre in Civic Square, Sappho is a unique theatre experience not to be missed.
Preserving Gaywaves
Wednesday 25 November: 5.30pm
In the 1970s, when community radio was in its infancy, Sydney station 2SER took a risk and put a program called Gay Waves to air. That program, amongst others, was the beginning of a much more accepting attitude to gay issues being broadcast on radio. Things have come a long way since then. The National Film and Sound Archives (NFSA) brings the team behind this project to Canberra to talk about and share their discoveries, and to interview queer radio pioneers from the brave early days about what it meant to have an avenue for our stories to be broadcast and shared.
BAKE
Saturday 28 November: 1.00pm
Grab those aprons and make a difference in the kitchen! With over $2000 in cash and prizes to be won, Canberra's LGBTIQ CHARITY BAKE OFF is one event you won't want to miss. If you don't bake, don't worry because we also need lot's of people to come along to bid at the charity auction, eat wonderful food and be merry.
The Queer Muse Series
Showcasing the fabulous variety of Australia's out and proud writing community,  Canberra's newest cultural venue Muse presents a season of queer literary events throughout November commencing at 8.00pm.
Tuesday 3 November – Benjamin Law: Gaysia
Author of The Family Law and Sh*t Asian Mothers Say, Benjamin Law considers himself pretty lucky to live in Australia: he can hold his boyfriend's hand in public and lobby his politicians to recognise same-sex marriage. But as the child of migrants, he was also curious about how different life might have been had he grown up in Asia. So he set off to meet his fellow Gaysians. Join Benjamin Law on a wild ride around Gaysia
Tuesday 10 November – Todd Alexander: Tom Houghton  
Novelist, businessman, traveller and vigneron Todd Alexander has worn an array of fabulous hats throughout his career. With Tom Houghton he returns to fiction, his first love, producing a searing work that's received comparisons to Christos Tsiolkas and Matt Nable. In the second of our SpringOUT sessions, Alexander is joined by Nigel Featherstone for a conversation that will range from Katherine Hepburn to fine shiraz and everything in between.
Tuesday 17 November – Maria Katsonis: The Good Greek Girl
A lecturer in public policy and adviser to the Victorian government, Maria Katsonis was the good Greek girl who grew up above her parents' milk bar and shared a bedroom with her yiayia. But that's just the beginning of her story. Katsonis' memoir, The Good Greek Girl takes us from Harvard to the psych ward and has been one of the standout titles of the year. Book early for this one – Katsonis' story is not to be missed.
Tuesday 24 November – Inga Simpson: Nest & Mr Wigg
Queensland author Inga Simpson caused a stir in the Australian literary scene with her 2013 novel, Mr Wigg. Her most recent novel, Nest – was long-listed for both the Miles Franklin and the Stella prizes. Once a writer and researcher for Federal Parliament and Commonwealth Ombudsman, Simpson returns to her former stomping ground in Canberra to talk nature, nurture and the lost child in all of us.
The 2015 SpringOUT Festival runs from 31 October  and throughout November. For more information and complete program, visit: www.springout.com.au for details.
Image: photo courtesy of Canberra SpringOUT Association Inc.