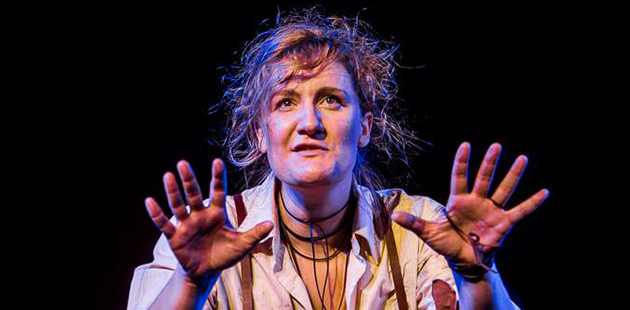 After the enormous success of a sold out season of Calamity Jane at Hayes Theatre Co last year, One Eyed Man Productions in association with Neglected Musicals and Hayes Theatre Co are getting ready to take this beloved musical to selected venues as part of a national tour.
Calamity Jane is one of the most immediately recognizable figures of the old American West. From the famous 1950's Doris Day movie musical to the HBO series Deadwood, her courageous individuality has delighted audiences for decades. With a fierce disregard for gender expectations and cultural limitations that was centuries ahead of her time, there's no better time to revisit and reexamine this remarkable woman.
This madcap, pared-back reimagining shucks off the buckskin and brings a barrelful of dirt and grit to the classic musical. Directed by Richard Carroll, the production stars Virginia Gay (Channel 7's All Saints and Winners & Losers) as the magnetic, masculine heroine – joined by a ragtag band of acclaimed comedic actors and musicians.
Richard Carroll said directing Calamity Jane last year was one of the most fun and joyous experiences of my working life. "It was one of those rare occasions where that fun and joy also infected the audience every night," said Carroll. "So I couldn't be more excited to take the show on the road and bring even more audiences through the doors of the Golden Garter saloon."
From the moment they enter the theatre, audiences are immersed in the world of the Golden Garter Saloon – alive with whores, gamblers, and habitual jeopardy – and can expect an unruly and unpredictable ride. This particularly goes for the dozens of audience members seated onstage at saloon tables, who will be a part of the action whenever they least expect it!
Featuring timeless standards such as The Deadwood Stage, Windy City, Black Hills of Dakota, and Secret Love, performed with piano and a grab bag of other instruments, this production injects a unique and raucous sense of spontaneity into the world of musical theatre.
Joining Virginia Gay are original cast members Laura Bunting (Rent, Side Show) as the charming Katie Brown, Anthony Gooley (Of Mice and Men, All My Sons) as Wild Bill Hickock, Rob Johnson (Carrie, The Detective's Handbook) as Francis Fryer, Matthew Pearce (Rent, Rolling Thunder Vietnam) as Lt Danny Gilmartin, and Tony Taylor (As You Like it, The 39 Steps) as Henry Miller.
"Richard Carroll's production is witty, immersive and polished to a rough diamond… It's not going out on a limb to say Calamity Jane will be among the most fun experiences you'll have in a theatre this year." – Sydney Morning Herald
Director: Richard Carroll Cast includes: Laura Bunting, Virginia Gay, Anthony Gooley, Rob Johnson, Matthew Pearce, Tony Taylor Musical Director: Nigel Ubrihien Choreographer: Cameron Mitchell Production Designer: Lauren Peters Lighting Designer: Trent Suidgeest Sound Designer: Andrew Sampford Wig Designer: Ben Moir Assistant Director: Dash Kruck Production Manager: Jack Daniel Woods Stage Manager: Lauren Tulloh
Calamity Jane plays the Parramatta's Riverside Theatres from Wednesday 21 February, before heading to Orange Civic Theatre from Wednesday 28 February; Illawarra Performing Arts Centre from Wednesday 7 March;  Fairfax Studio – Arts Centre Melbourne: 14 – 25 March; Canberra Theatre Centre from Wednesday 15 August; and Belvoir from Thursday 23 August 2018.
Image: Virginia Gay stars as Calamity Jane – photo by John McRae