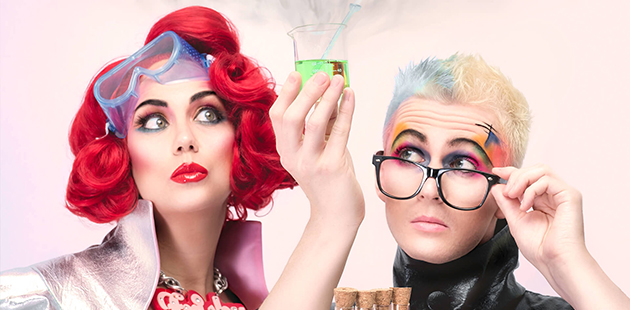 Celebrating both international and Australian cabaret stars, the inaugural Sydney Cabaret Festival is set to take over the Harbour City this July.
The 2019 Sydney Cabaret Festival features the legendary Tony Award-winning Jennifer Holliday, appearing for the first time on Australian soil, alongside local legends like Phil Scott and Jonathan Biggins, to New York downtown darling Natalie Joy Johnson.
UK's most famous duo Frisky and Mannish return after a ten year hiatus, as does the thrilling diva Alison Jiear, described as having a "bring down the house voice" by the New York Times. Sydney favourite Tim Draxl will appear in a world premiere of his new show, along with Kim David Smith, Reuben Kaye and Brian Nash, plus circus and variety show Cheeky Cabaret, direct from their home in Brunswick Heads.
Australian pop culture fan Tim Benzie returns to Sydney with the hilarious Solve-Along-A-Murder-She-Wrote. The Festival also includes a cabaret for children, Petit Cabaret, and masterclasses with Jennifer Holliday and Alison Jiear, as well as the Grand Final of the restored Sydney Cabaret Competition.
Festival Artistic Director Trevor Ashley is thrilled with the program he has assembled. "I have loved Cabaret as long as I can remember. As a confused child growing up I discovered this incredible artform that celebrated unique personalities, and more than that, an irreplaceable bond between artist and audience. Seeing artists like Lorrae Desmond, Julie Anthony and Geraldine Turner live, made me believe I could be anyone I wanted to be. It changed my life."
"I have long dreamed that we could bring cabaret home to Sydney so I am immensely proud to present the inaugural Sydney Cabaret Festival, which in its first outing brings together some of my favourite artists from around Australia and the globe."
"From our headliner, the legendary Jennifer Holliday, through to Alison Jiear, Kim David Smith and Reuben Kaye – three artists at the top of their game, who were born here, but now call London and New York home, there is something for everyone. Variety, comedy, jazz, and more belting than you could poke a stick at, we are coming out with a bang."
"I invite you to celebrate this truly life changing art form, and hope that you'll join not only artists you know and love, but take a chance on someone you've never heard of before. Every single one of these acts is at the top of their game, and I can't believe we will have them all in one place at the same time."
The Seymour Centre is the home to the majority of the program with five fabulous spaces to enjoy the incredible lineup. All the theatres have been renamed after legendary Sydney cabaret venues – Capriccio's, Chequers, Valhalla, The Piano Room and The Tilbury Room – turning the entire venue into a Cabaret Wonderland.
The 2019 Sydney Cabaret Festival runs 5 – 14 July and takes place at the Sydney Town Hall, City Recital Hall and the Festival Hub at the Seymour Centre. For more information and full program, visit: www.sydneycabaretfest.com for details.
Image: Frisky and Mannish (supplied)